Rosie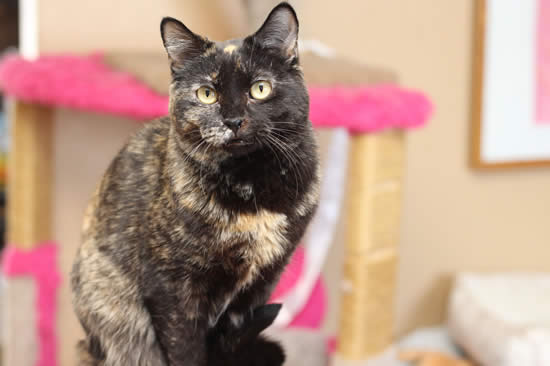 Rosie
Color: DSH Tortoiseshell
Age: Born Approx. April, 2012
Gender: Spayed Female
History:
Rosie, along with her mother and siblings, were left behind when their people moved out of town in the summer of 2012. The whole family was rescued by the Last Chance Cat Ranch. All found homes but Rosie. The fact that she is still waiting to be adopted does not mean there's something wrong with this sweet girl. She's just simply been over-looked, probably because of her quiet nature.
Personality:
Quiet and observant maybe, shy - no! She's a typical tortie in that her mission each day is to be seen, acknowledged, and to get some lap time! She really is a very nice little girl who would dearly love a home of her own. She's living with several cats and dogs in her foster home, and does just fine with everyone. Torties are very smart little cats. They see everything that goes on and like to feel that they belong. They love to play and will often learn to do amazing things. They are also very loyal and will go as deep in a relationship as their person wants.
If you would like to inquire about Rose, click here.