Rosebud
Rosebud with a full coat: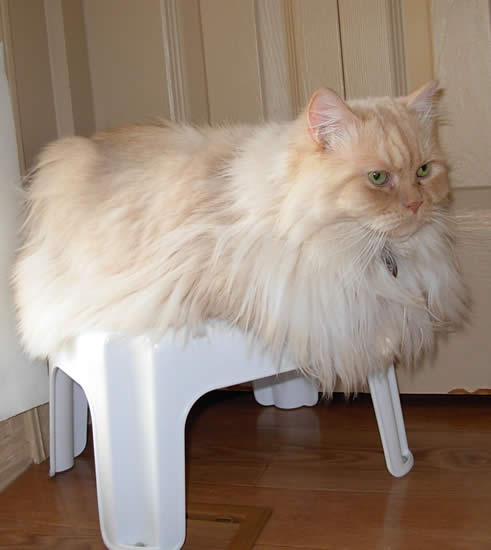 Rosebud after a shave-down: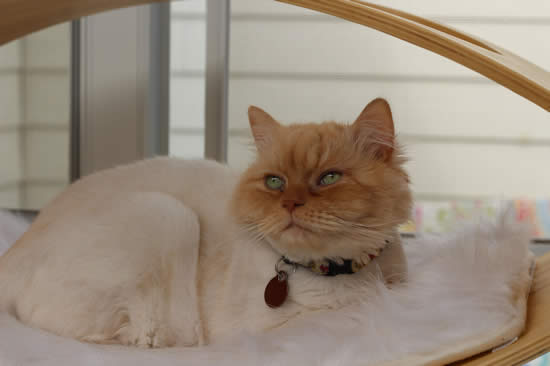 Rosebud
Color: Peach, DLH
Age: Born approx. April, 2013
Gender: Spayed Female
History:
Rosebud is young but has already been through some rough seasons. Her life finally changed for the good in July, 2014, when she was found among some bushes, sick and wilting. She had to have an emergency spay surgery because she was bleeding. Turns out she was pregnant but her kittens had died within her. She was rescued just in time and recovered nicely in a foster-home.
Personality:
Whomever Rosebud lived with before she was rescued probably did not offer their little cat much in the way of gentleness. And who knows what sort of trauma led to her kittens perishing inside of her, or for how long she lived on the streets. She's residing in a foster home with multiple cats where she was allowed to take as much time as she needed to get used to all of them. Although that took a few months, she now does just fine with her cat roommates. A little dog lives there too but he was easier for her to get used to. She especially loves it when her foster mom talks silly-talk to her and she's slowly learning that petting is something that can be enjoyed. She likes to return your affection by placing gentle kisses on your face and sleeping on the bed with you. She will be a sweet and loyal friend to someone who will intuitively let the relationship unfold and develop on Rosebud's terms. It is heartwarming to see her progress as she races around the house making up imaginary games and scrambling up and down the cat furniture.
Since we've had Rosebud in our care, she's had to be shaved each spring. It seems to be the kind of fur she has - a very dense undercoat. She is very frisky and happy after being shaved! She head-butts and purrs.
You are welcome to fill out an Adoption inquiry here.
This is what she looks like a couple of months after being shaved. We had no idea how long her fur would become...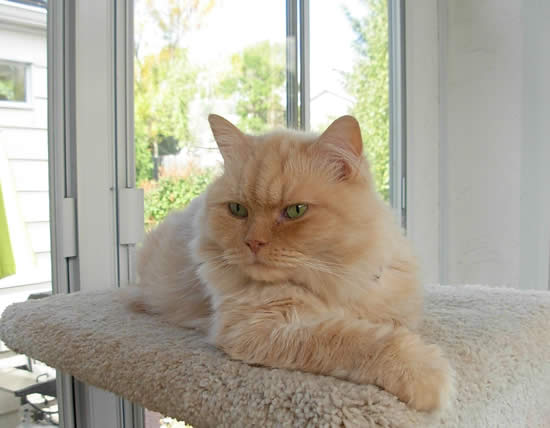 This is how she looks with her full coat (her mane is about six inches long):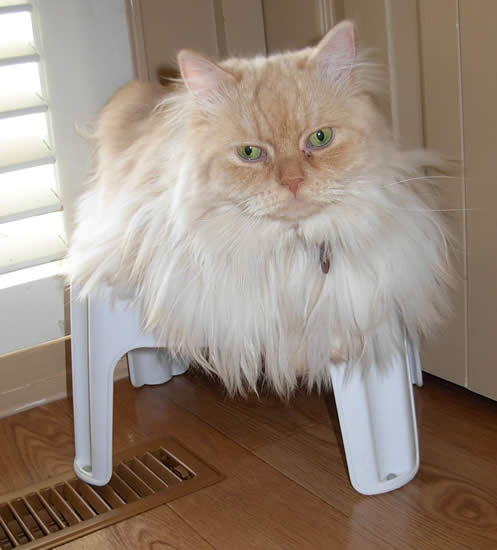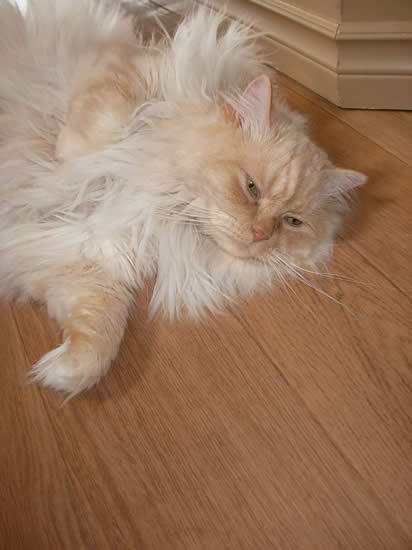 This is how she looks after a full shave: