Romeo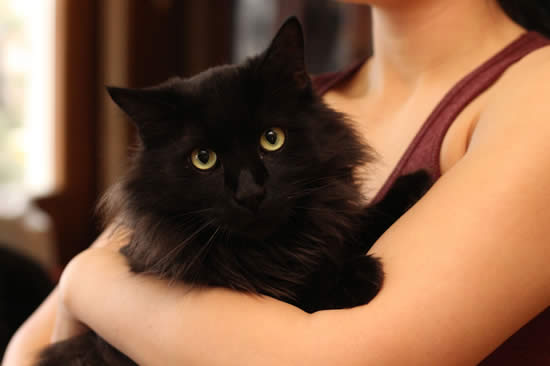 ADOPTED!
Romeo
Color: DLH Black with smoke undertones
Age: Born approx. April, 2017
Gender: Neutered Male/Micro-chipped
History:
Romeo was left behind in a basement apartment. Unfortunately, no one knew he was there until seven days later when the upstairs tenant heard his pitiful cries. She investigated immediately and was shocked to discover a cat. She knew a cat lived downstairs but had no idea the tenant hadn't taken him when he moved out. There was no food - only some unopened tins that poor Romeo had tried his best to open!
Personality:
What a beautiful boy he is - both inside and out. He loves to be held, snuggled and talked to - sometimes he'll even carry on a conversation. He desperately wants a human to love and will be beside you as much as possible - watching everything you do until you sit down, then he will plant himself on your lap. "A charmer" says his rescuer-now-foster-mom. His foster home is busy: three resident dogs and three day-home dogs, all quite boisterous and all large. But they don't faze Romeo one bit! Of course, they are cat-friendly and that's the most important part, but still, it's amazing how calm he is around them. There are also three lucky cats who live in the foster home; Romeo is careful around them but is gaining confidence daily. He has "good litter box habits - if it needs a scoop, he'll let you know". He likes a little room left for him on the bed. Foster mom says he's a bit shy with new people, "but once he warms up, he's your best friend." You can see from his pictures that he was a little unsure of the camera and who could blame him.