Rocky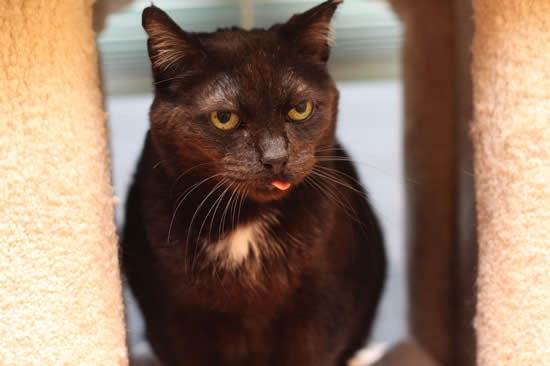 RIP Dear Little Rocky
Rocky
Color: DSH Black with white tuft on chest
Age: Born 2009 - who really knows?
Gender: Neutered Male
Rocky was trapped by a PAW member in 2011 when she was attempting to capture an advertised lost cat who'd been eating at her outdoor cat food station. One night a little black cat got into the trap. He'd never been seen before. He was clearly homeless and very shy - feral - but she thought the least we could do was to have him neutered. Off he went to the clinic the next morning. After surgery, the clinic staff strongly recommended that he be returned to his outdoor life - he'd proven to be quite a handful for them. But it's not easy to return a cat to an uncertain life and she thought, why can't he just live indoors rather than outdoors? With no expectations placed upon him, Rocky joined the household. He was indeed very shy and had never known people. He lived under the sofa, for the most part, coming out only in the evenings to use the litter box and socialize with the other cats. He adored the other cats! He would bump and rub up against them, trilling and chirping, clearly happy to be in their company. That's one of the coolest things about feral cats - they make excellent companions for other cats because cats are all they've ever known. As much as his rescuers wanted to touch him (he was the cutest little guy!), he was very careful to keep his distance.
Years went by with only a minimal amount of progress in his socialization with humans. In early 2018, his caregivers noticed his appetite had fallen off quite dramatically. It took planning and several hours to get Rocky into a kennel but eventually he was delivered to the clinic. His mouth, as it turns out, was in terrible condition and all of his teeth had to be extracted. After he returned home, it was decided to see if he would or could live anywhere other than under the sofa. An extra large wire kennel was set up in a spare bedroom and into that he, in his small carrying kennel, was placed. At night, the bedroom door would be closed and the wire kennel door opened so that he could come out and explore the rest of the room and enjoy the tall cat furniture. In a few weeks' time, young Rebecca (another shy cat) joined him in his room. They were perfect for each other and became very bonded. After a few months, the large wire kennel was dismantled and the bedroom door was left open all day and night. Rocky had become comfortable in his room and it became the new safe zone. So much better for everyone!
Then, a miracle. It didn't happen overnight, but Rocky gradually began to let his foster moms (Katrina and Audrey) touch him as he sat in the tall cat tree. And he grew to LOVE it. They enjoyed a very gratifying and loving relationship with him until late in 2019 when he began to experience severe digestive issues and weight loss. On December 16, 2019, Rocky was diagnosed with a large abdominal tumour and crossed the bridge. He was a very special 'little' boy and so worth the many years of finding ways to make his life one of quality and inclusion. For a long time, we had to love him from afar, but in the last year of life, he accepted human love and even returned it. Never give up on a little feral cat. They are not tough, they are fragile and vulnerable. They are full of love even if they can never express it. We were honoured to be in this little guy's world.