Robbie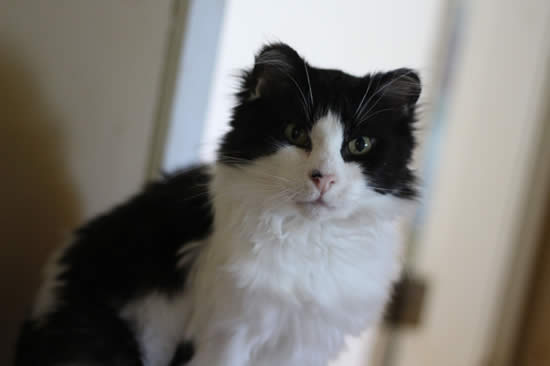 ADOPTION PENDING!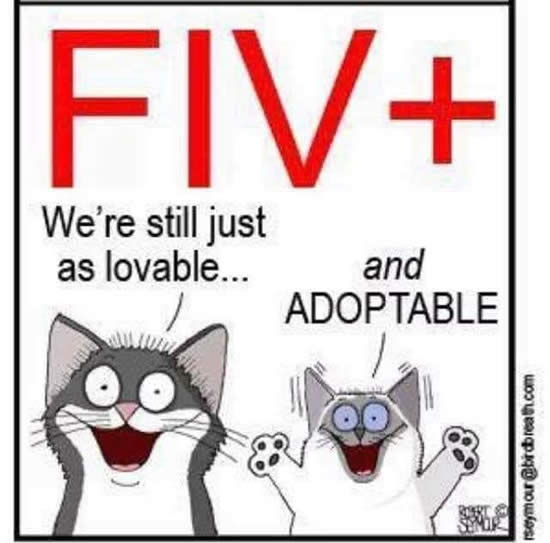 And we can have a normal life-span!
Robbie
Color: DMH White & Black
Age: Approx. May 2009
Gender: Neutered Male
History:
The weather was beastly cold when The Last Chance Cat Ranch rescued a cat in deplorable condition in February, 2019. He was severely matted, suffering from frost-bite and starving. Matted cats cannot get warm or stay warm. Fur in that state has no insulating properties. Once he was at the vet clinic, he was shaved. It took several weeks of rest for him to recuperate. During that time, the tips of his ears fell off. Clearly he'd been someone's pet for a time because he was already neutered and had exceptional social skills. Sadly, no one came looking for Robbie and he was subsequently transferred to the PAW Society.
Robbie tested positive for Feline Immunodefiency Virus. 'FIV' is only like human AIDS in the sense that they both affect the immune system. But cats with FIV can live a normal lifespan without the life-long medications that humans are required to take. FIV positive cats' immune systems are compromised but like any other cat, they will do well in an indoor-only home with proper care. FIV positive cats are especially susceptible to respiratory illnesses and care should be taken to keep them away from sick cats. Once it has been established that an FIV positive cat will not interact aggressively with (meaning bite) other cats, it is fine for him to share his home - including food bowls and litter boxes - with other cats. FIV is spread through deep bite wounds. That's why un-neutered, male cats living outdoors are prone to viruses such as FIV...and why neutering cats is critical to reduce territorial fighting. Read more about co-habitating FIV positive cats and FIV negative cats here: https://www.catster.com/lifestyle/cat-health-vet-study-fiv-positive-cats-living-together.
Personality:
Robbie is "such a happy-go-lucky little guy" says his foster mom. Friendly with strangers right from the start, he'll come over just to see what you're like. You don't have to give him head-rubs and face-rubs, but if you do, he'll consider that a bonus. He finds almost everything interesting, but especially people: while at an adoption event, he was afraid of nothing, and spent the whole time watching the humans. He didn't even pause to lie down and rest; there was too much going on. He'll be the same at home, though there, he might sit at a window and include the birds in his studies.
Quiet and polite, he does like to converse with those around him, and if there's no one immediately to hand, he will chirp and peep to himself. When it comes time for dinner, he waits patiently; no rushing in and making demands for Robbie. If he were to demand something, though, it would probably be his own human, someone to gaze at with adoration, to greet when they arrive home, and to tell about his day (in his adorable little voice). Robbie's rough times in the cold outdoors didn't diminish his spirit. It's alive and growing.
FIV TESTIMONIALS:
FROM AUDREY AUDETTE, PAW SOCIETY CO-FOUNDER: "I have had an FIV+ foster cat, Rueben, living in my home since 2008. His estimated birth date is somewhere around 2003 - 2005. He has shared this home with many cats over the years and none has contracted FIV. Some of them have been much more of a risk to him than he to them. He's a lover not a fighter, preferring to cuddle and play with his cat-friends."
FROM JAMES THORNE, PAW SOCIETY EXECUTIVE BOARD MEMBER: "My cat, Raleigh, is FIV positive, and has lived with me and his feline roommates for a year. Raleigh is about three years old now (July, 2019) and I have no fear of the other cats contracting FIV from him. Even if Raleigh were aggressive - which he is not - FIV couldn't be passed by swatting, scratching each other, nor through shared water- or food-bowls, or litter-boxes. Furthermore, since he was rescued, Raleigh's health has improved, and he is a cheerful, active fellow who loves playing, talking and eating. With a good diet, an indoor life and prompt care of minor medical issues, he can have as long and happy a life as a non-FIV cat."