Portia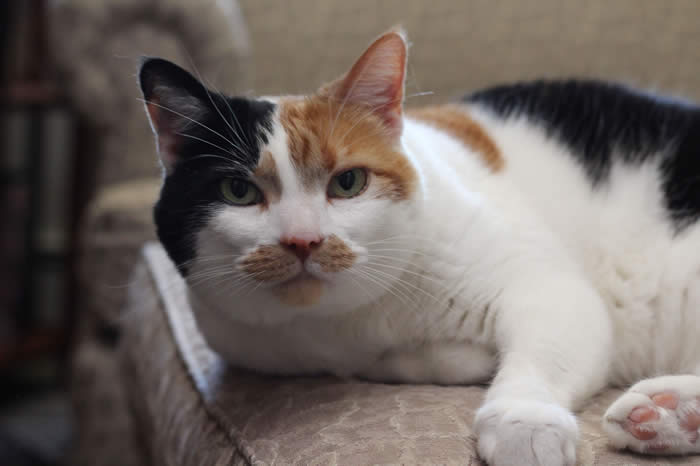 Portia
Color: DSH Calico
Age: Born Approx. May 6, 2012
Gender: Spayed Female
History:
Portia was surrendered to PAW in early May. Though she had had a different home as a kitten, she had since lived in one home. This proved impossible recently, and so she came to PAW, and is currently residing in a foster-home.
Personality:
What a journey Portia has made during the short time she's been in her foster-home. Initially reticent to trust, patience - and permitting Portia to set the pace of her adjustment - have altered her attitude. She has also had a dental; one tooth was removed but the rest cleaned, along with her gums. We feel that this has alleviated considerable discomfort she may have been feeling, and which could have been causing some irritability. (An excellent example of why feline dental care is important.)
But allowing this remarkable calico girl to discover her new world for herself is very important. She is still learning, but already she trusts her foster-guardian. Portia will lie against him and purr while he strokes her head and back; she is even letting him pet the side of her face, which we think she likes, even if she is reluctant to admit it. She'll let a person know when she's had enough attention: she will either move a distance away, or give a little hiss. Don't worry, though: it's not hostility, it's just her way of saying, "Thank you, that's enough for now."
Portia hadn't lived with other cats before, so rooming with three boycats is quite a change for her! There was plenty of hissing and growling at first but, again, this is just a cat's way of establishing boundaries. After six weeks, the hissing has decreased greatly and, if no friendships are being made yet, there's no fighting, either.
We should mention that Portia ate soft-food for the first time in her new foster-home, and decided that she loves it. She made the transition to new types of food - and a new type of litter - without any problem. The material world doesn't cause our girl pause: she would need time to get used to new people, new cats, a new home. But given that time, given understanding, given a safe place to which to retreat to be alone, and we feel that Portia will come to appreciate and love a new family.
If you are interested in learning more about Portia, click here.