Portia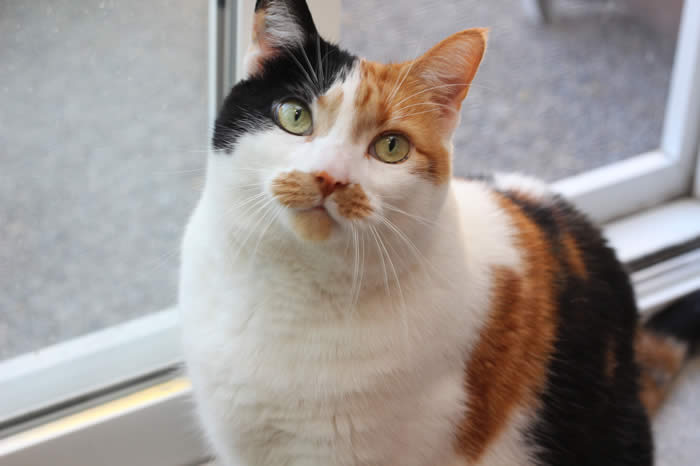 ADOPTED!
Portia
Color: DSH Calico
Age: Born Approx. May 6, 2012
Gender: Spayed Female
History:
Portia was surrendered to PAW in early May. Though she had had a different home as a kitten, she had since lived in one home. This proved impossible recently, and so she came to PAW, and is currently residing in a foster-home.
Personality:
Portia is an excellent example of how patience and understanding can change a cat. When she first came to her foster-home, she was, naturally, wary, but also rather stand-offish. It took a while for her to trust her foster-guardian, but now she does. She especially enjoys lying on his lap, being petted and brushed (her calico coat isn't just beautiful, it's soft and smooth). When she's had enough, she'll let you know, and then she'll be on her way to a comfy bed, or the window, or perhaps a drink of water. But that doesn't mean she won't want more attention later!

Never having lived with other felines, rooming with three more was a challenge for Portia, but a challenge she has met. At first, they all received her warnings to keep their distance. Now, she and they pass by or lie near each other without a thought. She has even started to play with one of her fellow felines. And, what's more, a new cat has come to live in her foster-home; initially, he moved Portia out of a room that was her 'safe-zone'. But Portia adapted. At first, she took to sitting somewhere else, no longer needing a refuge to run to; that's how much she has relaxed. Now that the newcomer has become integrated with the rest of the household, Portia may now and then be found in her old room – no longer needing it, but knowing she can enjoy it when she likes.
Portia is adaptable. She took to new food and new litter without a problem; she has learned to live with other cats. Having been raised by women, she appears to become more comfortable sooner with females (she hastens over to greet female visitors and graciously receive their attention and compliments) but since her foster-guardian is a man, there is no bar to her being happy with the male of the species. Portia is all about patience and time. With those on her side, there aren't many homes that wouldn't make her happy.