Portia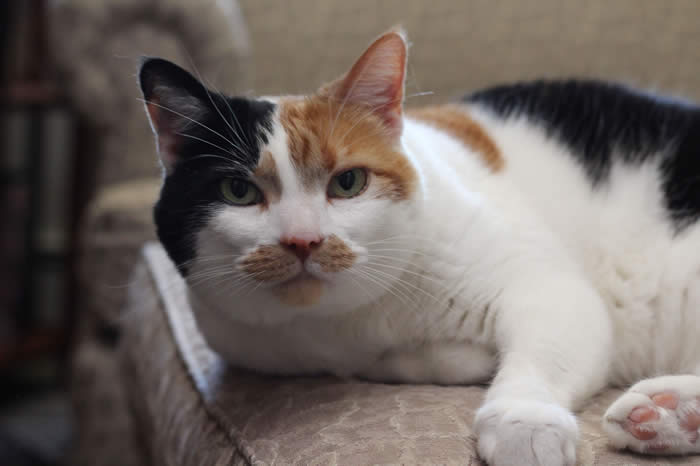 Portia
Color: DSH Calico
Age: Born Approx. 2011
Gender: Spayed Female
History:
Portia was surrendered to PAW in early May. Though she had had a different home as a kitten, she has since lived in one home. This proved impossible recently, and so she came to PAW, and is currently residing in a foster-home.
Personality:
We are still learning about Portia. Even her exact age is an estimate; she is so new to the Society that she hasn't been to visit the veterinarian yet, so we're basing her age on information received about her. We do know that she has a strong personality, and wants to take in her new world slowly. That's just fine with us. She has had no problem at all adapting to new food, including wet-food, which she hadn't eaten before coming to PAW, and to new litter. At first, Portia was given a separate room as a 'safe-zone', where she could relax and feel secure from any threat she may suspect in her novel environment. It didn't take her long to express a desire to see what was beyond the closed door, however. She is making daily excursions out of her room – indeed, the door is closed only at night, now.
Portia is learning to appreciate the touch of a human; not always easy for a cat who has known only a few people her whole life. She is also learning about other cats – those in her foster-home. She's seen fellow felines before, but has not interacted with them. This too is a new experience for her. But every day brings greater comfort with her foster-home: she is playing now, with her foster-guardian and by herself, jumping on a fuzzy mouse and knocking it about.
We hope to find her a permanent home with patient people who know that a cat must adapt in her own time, and will be willing to give Portia hers. We hope to show her that strange humans can be friends and that strange cats are perfectly easy to live with. Portia is intelligent, and a fast learner, so we think she will learn her lessons well.
If you are interested in learning more about Portia, click here.