Peeps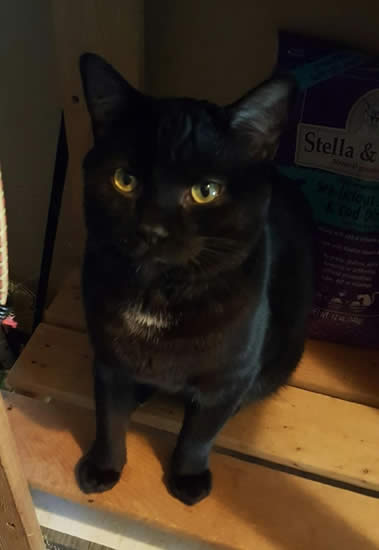 You must look very closely to see the beauty of a black cat!
Adopted!
Peeps aka Squeaky-Peeps aka Lucky Luke
Color: DSH Black with white tuft on chest, microchipped
Age: Born Approx. June 15, 2016
Gender: Neutered male
History:
It wasn't the sort of start in life anyone would want for a kitten. Peeps was found in the middle of the road in the summer of 2016, sitting loyally beside his deceased sibling who had been presumably killed by a car. Peeps' turn could have been next, but he was rescued by a caring motorist (there are good people in this world!). Peeps is fully appreciative of the life he was given back.
Personality:
This handsome fellow is what we like to call an 'all-rounder': the sort of cat one imagines when one thinks of an affectionate, healthy and happy feline. Peeps gets along well with other cats, with dogs and adores his people. And at less than a year of age, he is energetic and entertaining. But he's not demanding - just an easy-going, cheerful youth who wants to take full advantage of the life that was saved. His meows are more like...you guessed it...little squeaky-peeps. There's just something about these black lads - they are often the laid-back type and Peeps is no exception.