Parker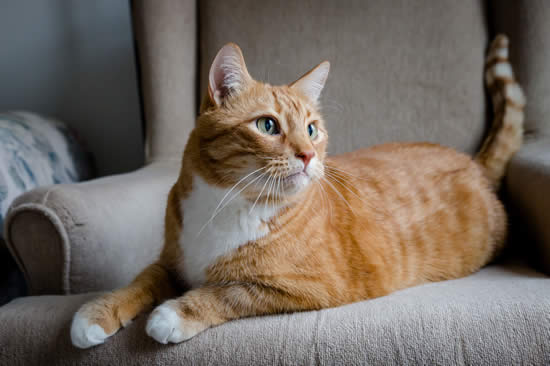 FINAL UPDATE: It was finally time for Parker to leave us. With help from a veterinarian, he passed away on June 2, 2019. He thoroughly enjoyed life right up to and including most of his last day. His walks outside with his devoted foster dad were one of his favourite things to do. He made many neighbourhood friends (mostly human) on his harnessed outdoor jaunts. Parker lived for over four months following his diagnosis, never losing his appetite.
What a fine orange fellow he was.
The best kind of little friend.
January, 2019: We are very sad to inform everyone that Parker has been diagnosed with an intestinal tumour. It isn't fair at all but he continues to be a very well-cared-for and dearly loved family member in his foster home. Each day he remains on this Earth is a blessing for all who know him or for those who have followed his story on his foster dad's blog:
"I Have Three Cats" (link on left side of page).
Parker
Color: DSH Tabby, Orange and White
Age: Born approx. May 25, 2006
Gender: Neutered Male
History:
Parker was first seen trying to find food from a dumpster behind a shopping mall in Lethbridge. The Last Chance Cat Ranch was contacted and when its representative arrived on the scene, she found a very friendly and very hungry orange and white neutered male cat. Good nutrition worked wonders but during a health check, it was discovered that he had diabetes. Insulin was prescribed and his condition stabilized. In January, 2017, his fostership was transferred to the PAW Society. That summer, Parker had much needed dental work at which time most of his remaining teeth were removed. Now he is comfortable and happy.
Personality:
What an interesting fellow Parker is. First and foremost, he is friendly; he is always ready to greet a visitor to his foster-home, and welcomes his foster-guardian with heavy purring each morning upon rising and each afternoon after work. He lives with several resident cats and, though he hasn't bonded with any, feline friendship is a definite possibility with the right cat. In the meantime, he loves attention from humans. Head-rubs and gentle face-rubs make him content and relaxed, but if you want to see him in action, try a string-toy. Parker is very capable of entertaining himself, knocking about a fuzzy mouse or batting the ball around in a Trac-ball toy. Climbing and jumping is no problem for him, now that his diabetes is stable. He enjoys a wide window with a view of birds and other wildlife, and of course a comfy chair or couch for snoozing. What really excites Parker is meal-time. He is a biggish, solid fellow and loves his wet-food - loss of his teeth has not slowed down his eating at all!
A regular, controlled low-carbohydrate diet is important to this orange boy, due to his diabetes. And it is that condition that is key to his physical well-being. Though it's hoped to lower Parker's dosage of insulin, his current amount is allowing him to live a cheerful and active life. It is very important that regularly-scheduled injection of his insulin, by syringe, be maintained. As well, his blood-sugar levels need monitoring, so a day-long testing process called a 'curve' must be performed at least once a month, sometimes supplemented with individual spot-testing. As well, notice must be kept of his water-consumption and urination; these too help determine his state of health. Only constant vigilance of food, water, blood-sugar and general behaviour will continue to give this wonderful, sweet-natured cat the life he deserves.