Noah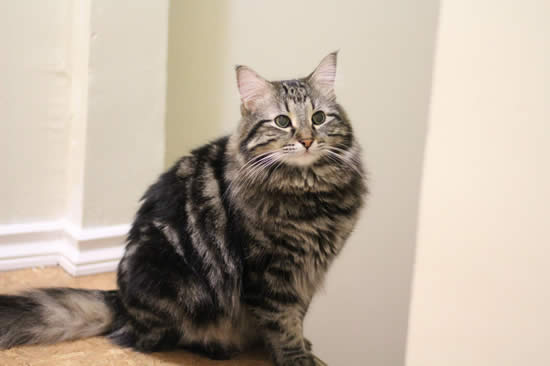 ADOPTED!
Noah
Color: DMH Black/Brown Tabby
Age: Born Approx. August, 2014
Gender: Neutered male (micro-chipped)
History:
Noah (new name) was a young stray in a small town. He was rescued by a family and is now in PAW's foster system.
Personality:
"Noah is a very sweet, well-mannered cat, laid-back and good-natured." Those are some of the comments of his foster parents in an updated description of this young gentleman. He'll wake when you do – he won't do the waking – and is not demanding when it comes to breakfast – or lunch or dinner. During the day, he will keep busy by playing: shoelaces, crunched up balls of paper, fuzzy mice, springs – everything is a toy to Noah. He has plenty of energy; there is still a lot of kitten in this boy. But don't worry; if he wears you out playing, he will then entertain you by entertaining himself. And he also likes to have fun with another playful cat.
Noah isn't quite a lap-cat, but that doesn't mean he won't want your attention. A small meow now and then will tell you when. He prefers being tucked up beside you. Oh, and sometimes he'll lie on your chest while you rub his neck. You see, Noah isn't always on the go. At night, he likes to vary his sleeping arrangements. Sometimes, it will be on the bed with you, while other times, he will find a soft and cozy spot away from the crowd.
Noah's habits are good: an excellent appetite, he'll lick his bowl clean; if he doesn't eat everything right away, he'll come back to it, don't worry. He likes to explore and check out whatever is new and you can frequently find him in a spot high up with a view of both inside and outside. He's a cat who likes to know what's going on. Noah is easy-going and content. He knows a good thing when he sees it, and he'd love to see the inside of a permanent home.