Neville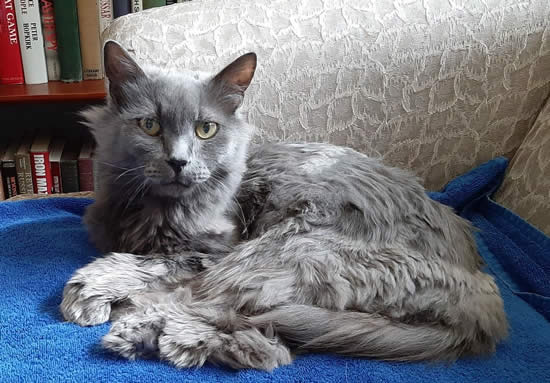 Neville
Color: DMH Grey
Age: Born Approx. April 27, 2009
Gender: Neutered Male/micro-chipped
History:
In May, 2019, Neville was found in a ditch, in such an emaciated condition that he could barely stand. Taken in by The Last Chance Cat Ranch, his weight was found to be less than three kilograms, and his fur was so matted that it needed to be severely cut. Two months later, his weight had almost doubled, and his hair was growing back nicely. But he was diagnosed with diabetes, so a treatment of insulin was prescribed. In September, he was transferred to PAW.
Personality:
The first thing you'll notice about Neville is how handsome he is. His coat has grown back and with an excellent diet, it is full and silky soft. His weight is much closer to what it should be. Best of all, his diabetes is in remission. We think this is largely due to his environment. His previous foster-home was safe and warm, but Neville found the other cats there quite bothersome; they would rarely even let him eat in peace. The resident cats in his new foster-home let him be himself, and that's fine with Nev. His stress has disappeared, and his blood-sugar count is excellent. His foster dad tests him from time to time and his count remains normal.
Though he loves stretching out his long, lean frame, he is also active, sometimes racing about for reasons only he knows, and he is always up for wrestling with a string-toy. He likes a good meal; when he talks during it (even as his face is in the bowl!) we figure he's complimenting the cook. He is still learning to enjoy a person's touch - he's not stand-offish, just a little timid - but the desire to have a true human friend is there.
Neville has made great strides but would attain his real potential in a quiet, low-stress home. He needn't be an only cat, but prefers to be left alone to make his own decisions about who to get to know. In fact, a laid-back feline roommate or two, to show him the ways of his new home, would be quite welcome. Such a setting, and a continued healthy diet, will give this good-looking fellow a long and happy life.
If you'd like to inquire about Neville, click here.