Neville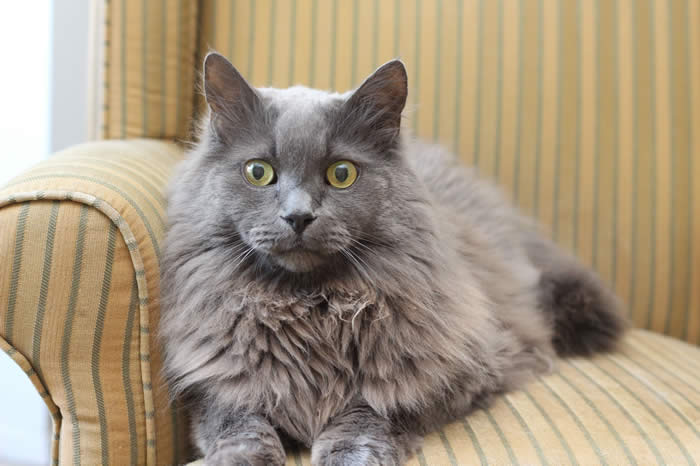 Neville
Color: DLH Grey
Age: Born Approx. April 27, 2009
Gender: Neutered Male/micro-chipped
History:
In May, 2019, Neville was found in a ditch, in such an emaciated condition that he could barely stand. Taken in by The Last Chance Cat Ranch, his weight was found to be less than three kilograms, and his fur was so matted that it needed to be severely cut. Two months later, his weight had almost doubled, and his hair was growing back nicely. But he was diagnosed with diabetes, so a treatment of insulin was prescribed. In September of that year, he was transferred to PAW.
Personality:
Neville is one lazy dog, er, cat. Think of him as the guy who comes home after working all day and just wants to fall asleep in his recliner after dinner. Only Neville doesn't have to work. Attempts at play just persuade him that he can play lying down. Lazy, yes, but so adorable. He starts talking about his meals as they are being prepared. Or maybe he's complaining about the slow service. When he sees the all-important bowl approach, he greets it with muttered cries of delight; sometimes, he will even talk as he eats. He loves his chin rubs. You can be there a while: he will sometimes enjoy them for half an hour or more. He loves them so much, he'll drool. Once in a while play peek-a-boo with him, or creep closer and closer while saying his name; a slow motor will start up and his paws will knead the air. He might be blushing under all that fur. On that subject, his long grey hair needs combing, as it develops mats; he doesn't care for brushing or combing, but he looks and feels so good after. A little cutting with hair-trimmers helps, too. Nev is a diabetic (which is one of the reasons why we keep trying to get him moving) and requires insulin twice a day. This is easily administered. He also needs his blood-sugar recorded through a day once a month, but that too is easily done; just pick a day when you'll be at home. As for getting along with other cats, Neville does just fine. He isn't one to intrude much, and he will likely move on if someone else thinks he's the intrusive one. Big and gentle, slow and friendly; that's Neville.
If you'd like to inquire about Neville, click here.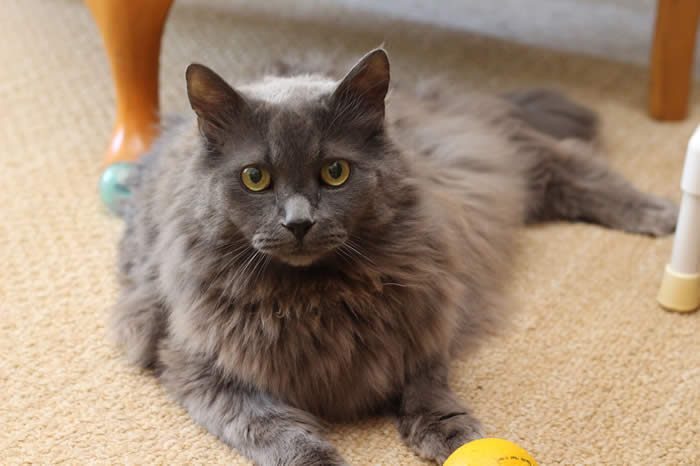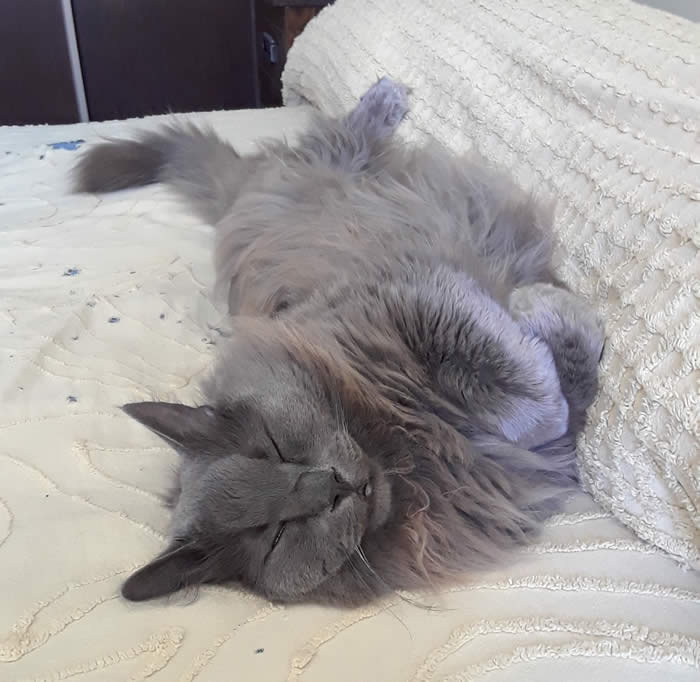 Neville after a partial shave: