Nano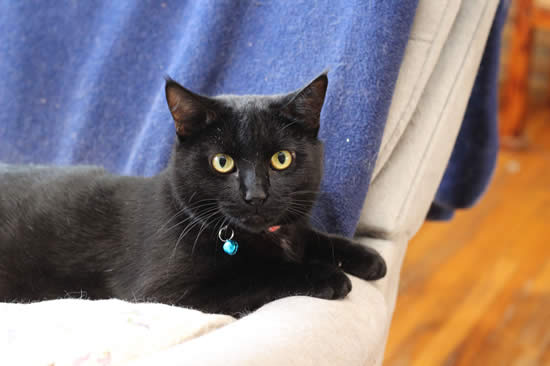 Nano
Color: DSH Black (white tuft on chest)
Age: Born approx. March, 2017
Gender: Spayed Female/micro-chipped
History:
Some little cats get a rough start in life. Nano was found in a dumpster in the fall of 2018. Did she go into it voluntarily or was she tossed in, we will never know. But she wasn't alone, her kittens were with her (which might explain why she stayed) but sadly, all had perished. Imagine her heartbreak!
Personality:
Once rescued and placed in the safety of a foster home, Nano quickly recovered her vitality. Nano's a lovely girl, clean and in excellent health. She is very well socialized, which is amazing considering what she went through. Cats are simply the most gracious and forgiving little beings, aren't they? She lives with several other foster cats and a little old resident dog, respectful of all others' spaces. She's a very contented girl and enjoys a warm lap. She loves her favourite chair. Nano's foster-guardian has delighted in getting to know her.
If you'd like to inquire about Nano, click here.