Mitsi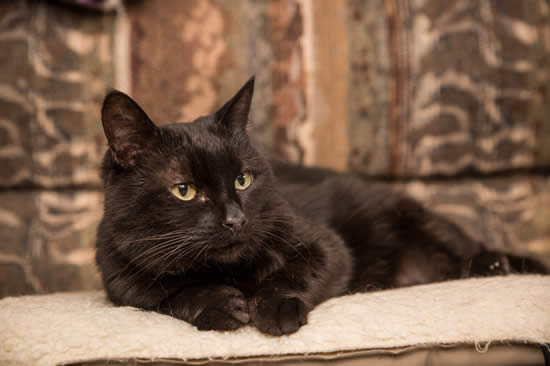 Mitsi
Color: DSH Black
Age: Born February 13, 2006
Gender: Spayed Female
History:
This small, older girl was surrendered by a family when their mother (Mitsi's person) moved into a seniors' residence. Pets were allowed, so Mitsi was taken along initially. But they said she was terrified living there so they decided that giving her up was their only option. She had a sore in her mouth so we had to have that addressed. It was an infected tooth with a small mass which turned out to be caused by the root infection, nothing serious. The tooth was removed. She's a very healthy senior!
Personality:
Luckily, an experienced PAW foster mom felt that Mitsi's chances of attracting a quiet foster home would be quite slim, so she decided to offer hers. Mitsi basically has her own apartment downstairs (with maid service..). Although she can come upstairs whenever she pleases, she prefers to keep some distance between herself and the two resident cats (for now). She likes to lounge around. She likes to eat. She likes to climb the cat tree to look out into the yard. She likes to be brushed. She likes to play! Most of her playing is solitary, though, and goes on during the night; foster mom can hear her little feet thumping about. Mitsi knows what she wants and when she wants it. She'll lie on foster mom's lap in the recliner chair but, like many cats, isn't so fond of being picked up or carried around. But that's okay if she's a little stuck in her ways. She cannot be blamed for being cautious when her little world was turned upside down after so many years. Senior kitties are a precious addition to any home.
You are welcome to fill out an Adoption inquiry here.