Minuet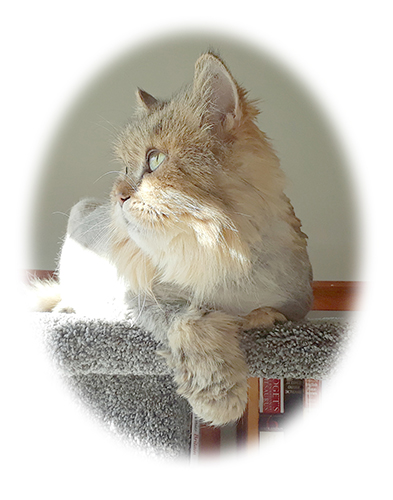 On Saturday, August 20, 2022, we had to say good-bye to one of our precious sanctuary-cats. Minuet had not been with the PAW Society for long, just since January 28th of this year. At nineteen years of age, she was surrendered by her owner. Considering the jarring and undoubtedly frightening change in her life, Minuet coped very well. Indeed, she seemed to thrive. Her coarse and badly matted fur was shaved, and she was given a custom-made flannel shirt to keep her warm; her fur grew back slowly, but more soft than before. She received a cat-tree of her own, its platforms spaced with consideration for an oldster's reduced agility, and she spent many happy moments on it. Initially annoyed by the presence of other cats in her foster-home, she grew to tolerate them. Though never a lap-cat, Min enjoyed being held and carried, and purred gladly when petted. She looked forward to her meals, and eventually would come out of her 'safe-room' to sit not far from her foster-guardian - and rather near other cats - waiting for service. Minuet's end came swiftly. She declined noticeably over a week, having lost weight, and then refusing food. She was beginning to show signs of physical distress. Symptoms suggested pancreatic cancer, though this was not confirmed. In any case, it was felt that Min would only suffer more from experiments to alleviate her condition. She left her body with dignity and calm, held and petted by her devoted foster-guardian .For her dignified presence, she was called Madame by her PAW human, and the many friends she made on the internet, through her guardian's blog. Because she enjoyed the sunshine, she was also nicknamed Lady Sunflower. With PAW for only seven months, Minuet endeared herself to those she met as if she had spent her whole life with them. We in PAW, and all those who knew her, will miss her. Godspeed, Minuet.
NOT AVAILABLE FOR ADOPTION
MINUET IS A SANCTUARY CAT
Minuet
Colour: DLH Persian mix, gray with some rusty hues
Born: Approx. March 20, 2003
Gender: Spayed Female
History:
Minuet had lived with the same person for sixteen years when her owner decided to surrender her. Minuet had been habitually wetting outside her litter-box and, according to her veterinarian, was now diabetic. This proved too much for Min's human, who was moving to a new residence and felt that a cat with a litter-box problem and diabetes was too much to handle. This is an unusual rescue for PAW; however, Minuet's future was bleak and we felt we could work with her issues.
Personality:
Minuet had urinated outside her litter-box even before she was adopted from a shelter by her last owner in 2006. She had been returned to her area's humane society three times for the same reason, and it was the thought that she might eventually be euthanized that made her person decide to keep her. In her PAW foster-home, a strategy was applied involving the exclusive use of a specialty litter, and Minuet is now using the litter-box correctly without fail. She also had to deal with diarrhea, a condition she has previously suffered due to extreme stress. Liberal application of a calming spray and pro-biotic to her food have dealt with that problem. As for her diabetes… What can we say? It was a veterinary misdiagnosis based upon a single blood-glucose reading. Numerous readings in her new home demonstrated excellent blood-glucose numbers without the assistance of insulin, and her new doctor agrees that Minuet is not only not diabetic, but likely never was.
As may be imagined, an abrupt change to a new home after a decade and a half in a settled and familiar world can be traumatic for a cat. Yet Minuet has handled this sudden shift remarkably well. She is not yet friends with her new foster-guardian but nonetheless enjoys his attentions and purrs upon touch. She looks forward to her meals - specialty foods – and lets her new person know in the mornings that she is hungry. She doesn't care for the other cats in her foster-home – she warns them when they are trespassing in the room set aside for her – but explores the rest of the house from time to time. Minuet is a very old lady but won't be limited by her age: she climbs up the arms and back of a couch to reach the carpeted top of a bookcase where she can catch the warmth of the sun, and see the outside world. She plays a little bit and is interested in her surroundings. As time progresses, so will her integration, and she will come to meet her feline roommates, and learn that she is welcome everywhere in her new home.
Minuet is not available for adoption. She is one of PAW's 'sanctuary-cats', who, because of age or health or temperament, are not suited for adoption. Min is lucky to have so far made the transition to her new world with as few troubles as she has had; it's not felt that she should have to make another. She will live out her remaining years – may they be many! – in gentle retirement, given whatever she needs for her comfort and contentment.