Michael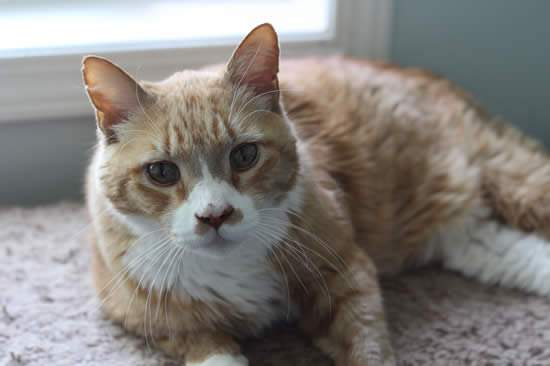 Michael
Color: DSH Orange & White Tabby (orange mustache)
Age: Born Sept. 29, 2005
Gender: Neutered male (micro-chipped)
History:
Michael was brought to the attention of the Last Chance Cat Ranch on April 18, 2017, by a lady who had been feeding him since December, 2016. He had taken refuge under her trailer and she had become increasingly worried about his welfare as time went on. He was badly matted all down his back and up his tail. Matting prevents cats from retaining body heat. Upon intake, he was health checked and carefully shaved under sedation. He had two broken canines. A senior blood panel showed all values within the normal range so a full dental was scheduled and carried out a week later. Shortly thereafter, he was identified as having once been a PAW cat and was therefore transferred back to the PAW Society. He is currently in a multi-cat foster home but we'd like to provide him with a foster home that's just a bit less busy.
Personality:
Are you someone who enjoys a lap-cat? That's exactly what Michael needs because he sure could use some TLC after having lived outdoors for several months (that we know of). We will find out more about his personality as time goes by. Dominant males aren't his cup of tea but he seems to do fine with most cats. Like all cats, he appreciates being safe and valued.
You are welcome to fill out an Adoption inquiry here or if you'd like to foster Michael, you can send an inquiry here.