Michael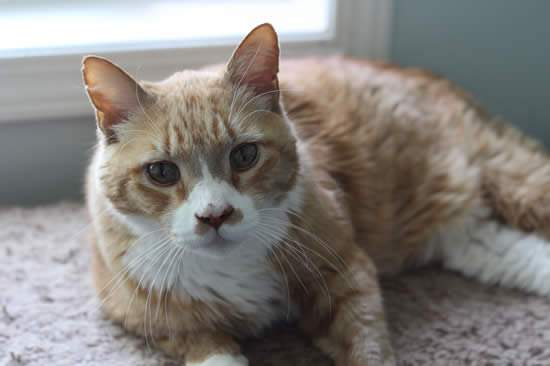 Michael
Color: DSH Orange & White Tabby (orange mustache)
Age: Born Sept. 29, 2005
Gender: Neutered male (micro-chipped)
History:
Michael was brought to the attention of the Last Chance Cat Ranch on April 18, 2017, by a lady who had been feeding him since December, 2016. He had taken refuge under her trailer and she had become increasingly worried about his welfare as time went on. He was badly matted all down his back and up his tail. Matting prevents cats from retaining body heat. Upon intake, he was health checked and carefully shaved under sedation. He had two broken canines. A senior blood panel showed all values within the normal range so a full dental was scheduled and carried out a week later. Shortly thereafter, he was identified as having once been a PAW cat and was therefore transferred back to the PAW Society.
Personality:
Are you someone who enjoys a lap-cat? That's exactly what Michael loves! Recently, he spent a few hours at a PAW adoption event in a pet store and this is what our volunteer had to say about Michael: "I was very impressed with our Michael. What a friendly, affectionate fellow; happy in a quiet way. He purred almost the whole time. You couldn't hear him, but I could feel the vibration in his throat. He meowed for about twenty minutes at first, but couldn't get enough attention, rubbing himself against the cage's bars and any hand that was there. He loves being brushed and flexed his paws all the while. I think he would be a cuddler if given the chance. He was scared of the shopping carts (aren't they all?) and seemed unsure of the dogs he saw, but not frightened of them. If he is anything like he was today in a normal, everyday environment, his human will be lucky to have him."
You are welcome to fill out an Adoption inquiry here.