Mellow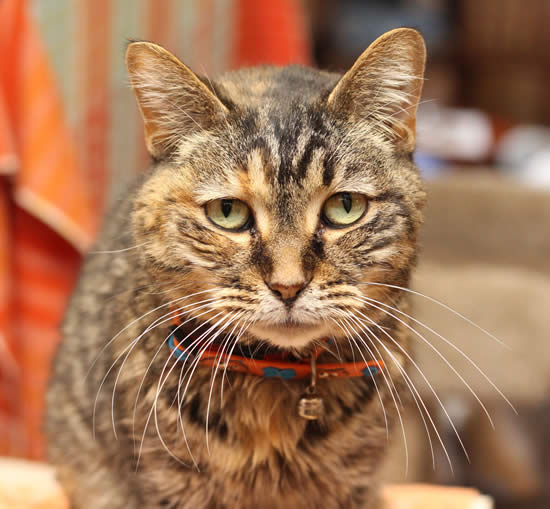 February 10, 2019: Mellow crossed the bridge today. Her foster mom saw her quickly deteriorate over the previous few days and felt that Mellow's time here was drawing to a close. Rest in Peace dearest little cat. May your spirit be running free with your pal, Kermode.
UPDATE: Mellow is currently undergoing treatment for kidney issues. Because of her diagnosis, we suspect she is likely much older than originally thought.
Mellow
Color: DSH Brown Tabby
Age: Born Approx. February, 2012
Gender: Spayed female
History:
Mellow and her adult daughter, Yellow, were rescued from an abandoned construction site in west Lethbridge in mid 2014. Yellow was subsequently transferred to a rescue group in Calgary and Mellow was transferred to the PAW Society in early 2017.
Personality:
Mellow is one of those cats who doesn't make a spectacle of herself. Modest and quiet, this brown tabby tends not to stand out. But if you think there's nothing to see here, you're not looking close enough. Watch how she makes friends easily: with a frisky fellow feline, or with an aged little dog. Observe Mellow's cleanliness: a clean litter-box, thank you, and well-groomed fur. See how she cuddles with her person, especially at night, with a spot on the bed. Mellow won't start a fight, but you may catch a glimpse of her standing up to a cat who thinks she's a push-over. Then, a minute later, troubles are forgotten, and you'll view your girl lazing at a window, catching up on the world at large. Yes, Mellow may blend in to the background, but look twice, and you'll see a vision of your future friend. Common knowledge about tabby cats is "Tabby cats are cute, sharp and very intelligent. Although other cats are also intelligent, these cats learn to live well with humans and enjoy their lives," a theory that certainly applies to this little girl.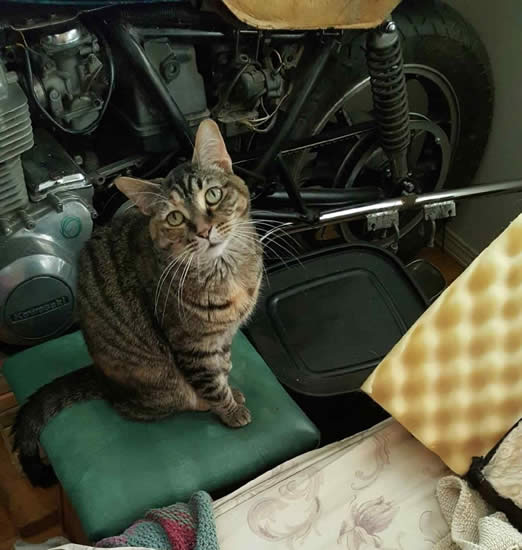 Mellow and two of her bed-buddies (Cher, orange; Kermode, white)