Mazy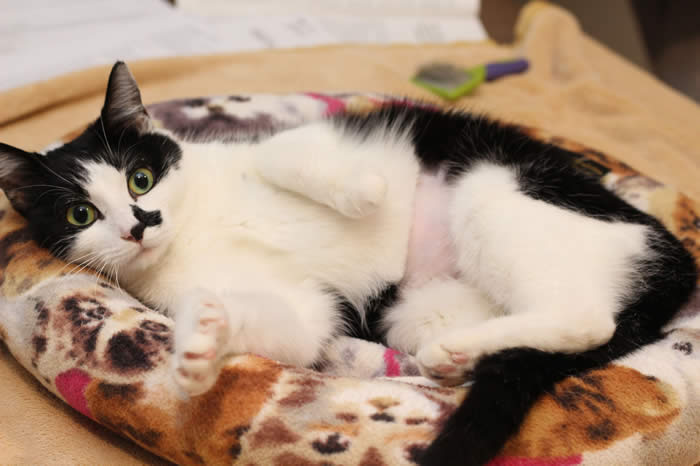 Mazy
Colour: DSH White & Black
Born Approx: June 22, 2022
Gender: Spayed Female (micro-chipped)
History:
Mazy and her dog brother became homeless when their person vacated their rental property without notice and left them outside to fend for themselves. The dog was picked up by the town's bylaw officer. Mazy, just a kitten, would have been very frightened and stayed close to the property. She found her way back into the unit and that's where she was captured. The landlord had a family connection with one of our long time foster providers who agreed to add Mazy to her already large family of PAW foster cats. We were in a race against the clock when Mazy came to us on December 9, 2022. We hoped she wasn't pregnant as we guessed she was around six months of age. We were relieved when our clinic was able to spay her on December 22 (she wasn't pregnant).
Personality:
We wonder if Mazy had much attention from her previous person. She seemed somewhat detached from everything when she came to PAW, as if she was used to being in the background. But this sweet little girl, black and white with a smudge on her nose, is starting to open up. She is even beginning a playful friendship with one of her fellow foster cats, Rebus. We think she already knew that people can be caring and affectionate but the ways she asks for attention are subtle and quiet. She enjoys being held, and shows it with soft purrs. She's beginning to play with the toys available and has become quite good at letting foster mom know when she wants her food bowl. These are all very good signs of moving forward. We would like for Mazy to have not only a tender and loving person, but someone who appreciates her gentle, quiet ways and learns who she is by word and deed. Meet a kitten who wants a lifetime to tell her story.
If you are interested in Mazy, you are welcome to fill out an inquiry here.