Louie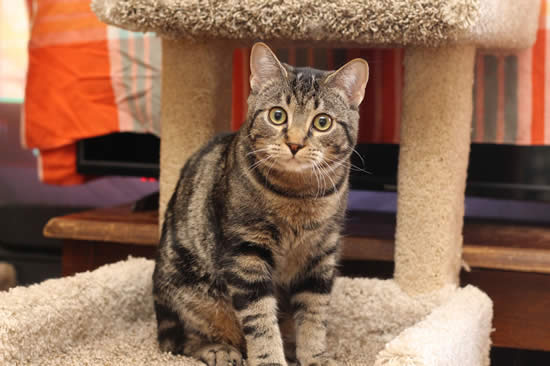 ADOPTION PENDING!
Louie
Color: DSH Brown Tabby
Age: Born approx. May, 2018
Gender: Neutered Male/micro-chipped
History:
Louie was an owner surrender. There isn't much more to say about that. It was nothing to do with Louie.
Personality:
Life is good, that's what Louie would say. He's not just handsome, this youngster is very bright. Just look at those intelligent little eyes! He can make a game out of anything..or nothing. Everything in his environment has potential - "hmmm, let's see what's in this cupboard..." He is all you could ask for in a devoted little buddy: want a cat with a great attitude you say? Easy-going Louie has that in spades. "A happy little guy" says his foster mom. Louie also enjoys the company of other cats and tries to entice them with a 'see how much fun I am having' invitation. He shares his foster home with a little old dog too. Offering the good things in life to Louie - love and attention - will make him your devoted little side-kick. Could you ask for anything more?