Knox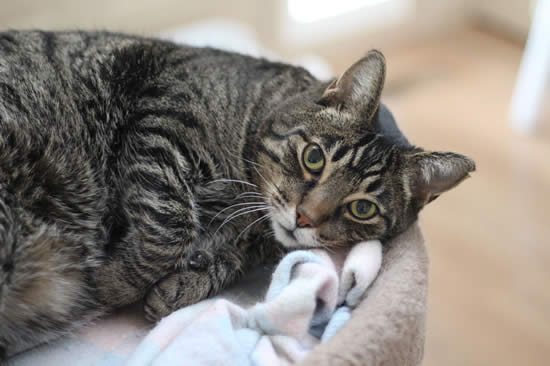 In Memoriam: Knox passed away with assistance on November 1, 2018. It was devastating to learn he had developed FIP (Feline Infectious Peritonitis). FIP is a mutation of the coronavirus and they have yet to find a cure. Many cats, especially outdoor cats, have been exposed to coronavirus but only a tiny percentage of them will develop FIP. Our dear, sweet Knox was one of the unlucky few. He was rescued in August of 2017 and we take comfort that, for the last fifteen months of his life, he was respected, loved, safe and comfortable in his foster home. He became the top cat there, a position that had been vacant for a few years. He showed symptoms of FIP only in the last month of life. RIP our dear boy, we miss you. You will always be part of the PAW family.
Knox
Color: DSH Brown/Black Tabby
Age: Born Approx. May 2008 (estimate)
Gender: Neutered Male
History:
On the long weekend of August, 2017, a young woman, who was enjoying a family camp-out at Park Lake, came across this poor fellow hiding in the bushes along a walking path. At first, she wasn't sure if what she saw was even a cat, but when she called out, he came running up to her. Grateful to hear a friendly voice? Absolutely! He was thin and dirty and lonely. So, home he came with her where she immediately advertised him as a 'found cat' and began looking for a group who could help. He had been previously neutered so obviously was cared for at some point in his life. His rescuer was very willing to provide his foster care - exactly the type of rescue situation in which PAW can participate. An appointment was made for a health check-up a couple of weeks later. His weight was low for a cat of his size and so, along with a blood panel, our vet felt we should also snap-test him for FIV and Feline Leukemia. His blood panel was perfectly normal - his snap test was not. He tested negative for FIV but positive for Feline Leukemia. But that's NOT the end of the story! The next day we submitted a blood sample to a lab in Calgary for further testing. Those results were NEGATIVE for both viruses. To further investigate the discrepant testing, a sample of his blood was sent away to the parent laboratory in Maine. There they re-tested using serum, then plasma (both were negative), but to be sure, they ran a PCR test which can find the actual DNA of a virus. That too was NEGATIVE. Knox does not have feline leukemia!
MORAL OF THE STORY: False positives can happen! If your cat tests positive on an in-clinic snap test, ask your clinic to re-test at a veterinary laboratory using a different testing method other than one that uses 'whole blood'. Some say to wait a couple of months before re-testing but we did not wait.
Personality:
It took a month to receive definitive word about his health status. During that time, it was necessary for Knox to have easy access to our veterinary clinic and so the decision was made to move him to a member's home in Lethbridge where he was kept in isolation until we were assured of his health status. He didn't mind being isolated. He was bathed and brushed and welcomed all visitors. His kibble bowl was kept full and he was offered as much canned food as he could eat. When he didn't gain weight, yet was eating voraciously, we discovered he has hyperthyroidism. He is now on a medication to treat it. Our vet feels this could be a short term issue as sometimes cats will present with a "sick thyroid" due to malnutrition, parasites and various other challenges a stray cat could have endured. We will re-test his T4's again in December and have two problem teeth extracted as well. His personality, however, is not a work in progress. Knox is very people-friendly, gentle -- and intelligent. He loves to be petted and brushed and to lie closely beside you. Friendly cats don't just happen - they learn how to be social by interacting with humans, so it proves he once had relationships with people. Although...he is frightened if someone raises their voice - he immediately thinks he's in the dog-house. It's a mystery how he ended up in the situation he was in - but we have to suspect abandonment as he was well advertised when found and had no identification. He is making good progress integrating with the other foster cats, although it's the three younger ones that cause him the most grief. Maybe it's because they are quick and more unpredictable than his other older feline roommates? But he doesn't mind setting them straight.
UPDATE: On February 13, 2018, Knox is finally going to have his teeth attended to. It's been postponed several times due to his stubbornly high T4 number due to hyperthyroidism. But the most recent re-test showed his numbers have come down to a point where it is now safe for him to undergo anaesthetic. Otherwise, he is doing well. His weight has increased by a kilogram and, as a result, has filled out nicely (no more bony spine!). His need to constantly eat has slowed, another sign that his thyroid is stabilizing.
UPDATE February 20, 2018: Knox is doing fantastic. He had eight teeth removed - and good riddance to them! A sore mouth due to rotten teeth is so much more painful than the after-affects of dental surgery - at least it was for him! He ate well immediately following his surgery and continues to do so both dry kibble and canned food. His blood work revealed his T4 number is now in the normal range. We will be exploring the possibility of Knox undergoing the radioactive iodine procedure. If he is a candidate, it will be done in Calgary and has a 99% cure rate. It would mean no more medication (tapazole). Unfortunately there is a long wait-list for this procedure. We are expecting to hear in the early fall of 2018.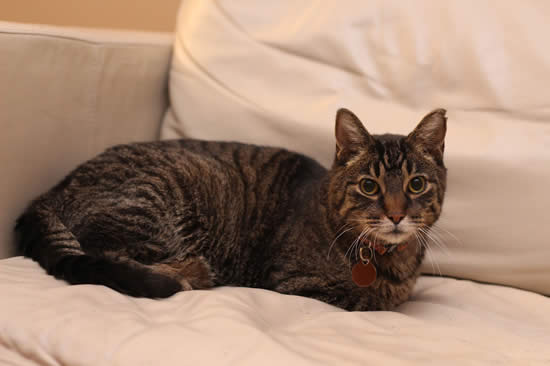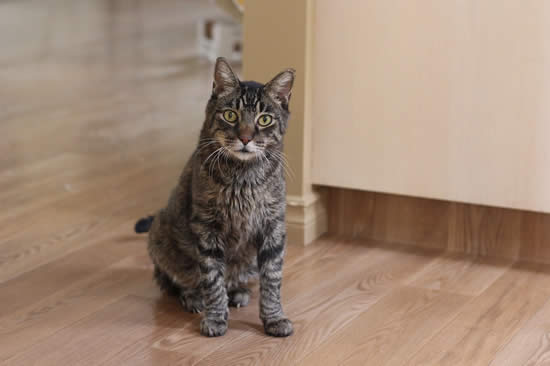 A tinier version of Knox, shortly after he came to PAW: