Kichi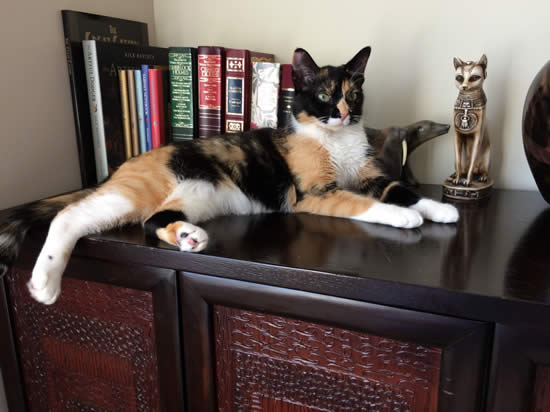 ADOPTED!
Kichi (kee-chee)
Color: DSH Tortoiseshell and white
Age: Born approx. May 25, 2015
Gender: Spayed Female
History:
A couple discovered a young cat crying and shivering under a truck in the parking lot of a big box store. When they called to her, she ran into their arms. It's a puzzle as to why this little cat was in that particular situation. There were no houses close by. She was in good shape. Did she somehow hitch a ride in or under a vehicle? We'll never know. Her rescuers advertised on social media as well as at the local shelters, however, no owner came forward to claim her. She was placed in the care of PAW and has since been vet-checked, vaccinated and spayed.
Personality:
Kichi is a busy little lady, full of personality and excellent self esteem. She very much enjoyed the resident dogs in her first foster home, walking around them, under them or playing with their wagging tails. She would love to have a playful cat to wrestle and play with but the older resident cats in her current foster home are not as indulgent as her dog friends were. Undiscouraged, she simply turns her attention to other things that could be of interest. "She is sooo very smart", says her foster mom. Kichi carefully observes and then practises how things work (e.g. doors and drawers). She plots how to get up to high places. Providing an interesting environment (cardboard boxes, etc.), cat furniture and window perches are excellent ways to ensure busy cats get the exercise and stimulation they need. There's never a dull moment with this gorgeous, fun little cat.
At nighttime, Kichi likes to tuck in beside her person, sometimes resting her head on the pillow. She doesn't stay in bed all night - but that's where she starts out. A tortoiseshell cat has a deep desire for a strong bond with her person.