Kaylie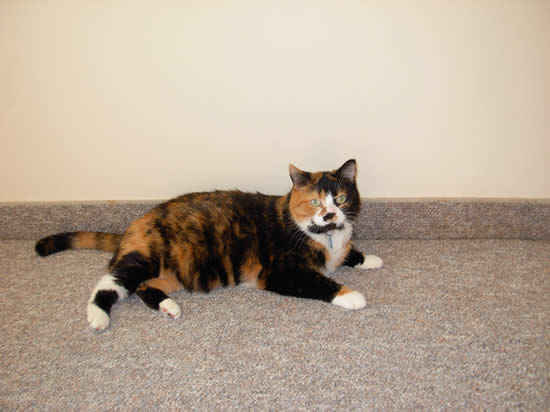 ADOPTED!
Kaylie
Color: DSH Tortoiseshell & White
Age: Born September 8, 2007
Gender: Spayed Female
History:
Kaylie lived with her devoted human from the time she was a wee kitten until her "mom" had to move into assisted care in late 2016. No one could be found to take the much beloved little cat. Kaylie was subsequently surrendered to the LCCR - blessings for that! From there, Kaylie was moved to the PAW Society.
Personality:
Kaylie has always been an indoor kitty and an "only child". She likes to cuddle with her person and sit in the sunshine. She was a very devoted little friend and slept with her mom every night. Of course, when Kaylie was surrendered, she had to move into a foster home. This was traumatic for her but she was lucky in that there were no other cats and her foster mom was kind and patient. And being the people-person that she is, it didn't take long for Kaylie to warm up to her foster mom who has this to say about her little guest: "Very sweet cat. Really cuddly. Likes chasing sticks and strings and playing with paper bags. Loves being brushed and petted and follows me around the house. When you touch her, she makes little mewing sounds. It's adorable!"