Juan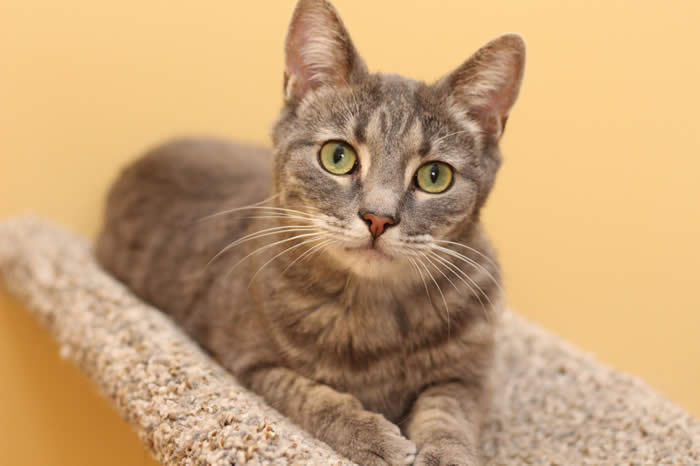 ADOPTED!
Juan
Color: DSH Gray Tabby
Age: Born October 23, 2017 (we agree, he does look like a kitten)
Gender: Neutered Male/micro-chipped
History:
Li'l Juan was born to a rescued pregnant cat who was taken in just previous to giving birth. Juan was the last to be born, much smaller than his siblings, and suffered a tail injury (broken) during a difficult delivery. Although the last three inch portion of his tail is floppy, it grew along with him and hasn't caused any issues. As an adult, he's still small, only 2.7 kilograms.
Personality:
Li'l Juan is a very special little fellow. He was surrendered due to his family feeling that his quality of life had diminished over the years to the point where he became sad and depressed. You see, his family rescued cats. Acting on one's compassion to help homeless cats often ends up with acquiring many. For Juan, that made life scary. His tiny stature made him an easy target and he was too passive and gentle to fight back. He was eventually displaced from his once secure and favourite refuge - his human mom's bedroom. We agreed to take Juan into the PAW foster system because we know he could have an absolutely wonderful life if given the opportunity to live with fewer felines - or even better, as an only-cat. Because, you see, Juan LOVES humans. He'll make air biscuits when you simply walk into the same room as him. He wants to be as close as possible, cuddling closely into your neck, curling up on your lap or lying in your arms like a human baby. He is the best little friend you could imagine and his friendship will extend to your visitors as well. He is calm and good natured and, at bedtime, just lift the covers and he'll burrow in. A loving connection and a need to feel safe and secure are his deepest desires.