Jessel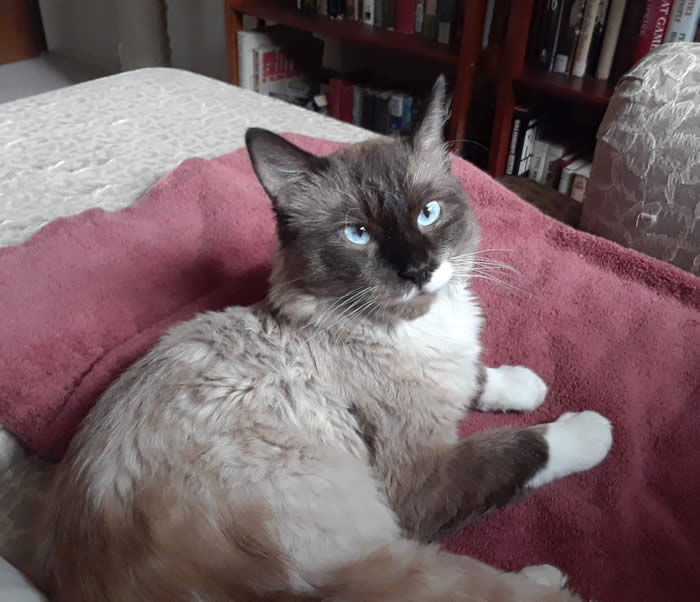 UPDATE: When a PAW member was going through advertisements on Lethbridge and District Lost and Found Pets' Facebook page, it was thought that Jessel looked very much like a lost cat named Snowball. This despite the fact Snowball was from the northside and Jessel was rescued on the southside. The original advertisement dated back to early May 2020. It was quickly verified to be the same cat and Jessel-Snowball was returned to his owner on September 15, 2020. Veterinary expenses were recovered. Jessel is a very lucky kitty to have had been fed and cared for while he was AWOL for over four months.
Jessel
Color: DSH Snowshoe Cross
Age: Born approx. June 3, 2019
Gender: Neutered Male/micro-chipped
History:
Jessel was first noticed in the late spring of 2020, hanging about an apartment building where several cat-lovers lived. Consequently, Jessel received consistent meals from some of the tenants, and, undoubtedly lost, he decided to stay close to a reliable food-source. As months went by, one tenant was able to determine that Jessel was not at all feral, and probably quite socialized. The tenant contacted PAW, and it was decided to trap Jessel. Once that was accomplished, Jessel was vet checked, vaccinated and neutered. PAW routinely tests intact males for FeLV and FIV, both were negative.
Personality:
Well, if there ever was a socialized cat, it's Jessel! Though he eventually permitted very light touching of his ears and whiskers when he was outside, once inside, he was ready to be loved. Two days after being trapped, he was lying on his rescuer's lap, even falling asleep there. At first restricted to a bathroom, he was moved to a spare room a few days later. There, with more space, vertical furniture to climb and a wide window to look out of, Jessel began to open up still more, conversing with his foster-guardian in high-pitched little cries.
Jessel spends a great deal of time watching the world beyond his window, chattering at the birds on the lawn and speaking to cats he sees still on the outside. We think he would do well with other cats, if the integration is conducted patiently: he had a couple of feline friends with whom he would roam locally. He also likes playing: he'll chase the red dot and fight with a shoe-string. As for cleanliness, he started getting on top of his hygiene as soon as he was in a clean environment. He remembers well what a litter-box is for, and is very regular in his visits to it. Jessel is a cat who is practically adoption-ready.
Cats love to perch: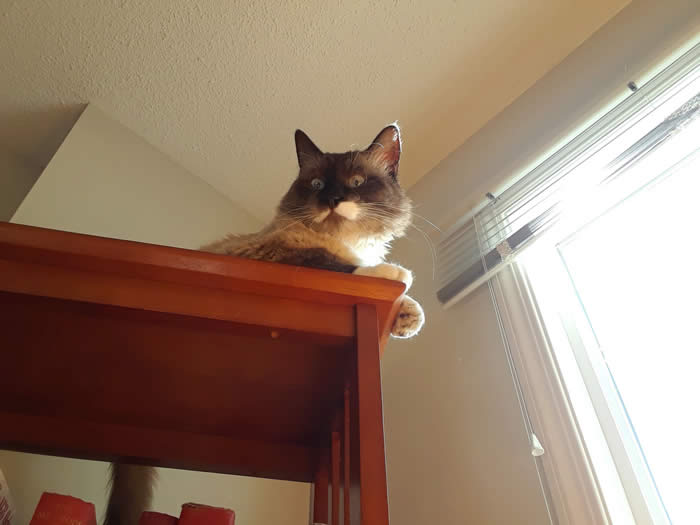 Jessel, following an ear cleaning, the day after being trapped on Sept. 3/20: