Jax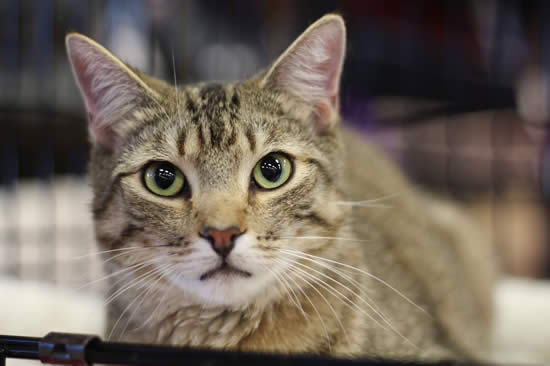 Adopted!
Jax
Color: DSH Light Brown/Gold/Black Tabby
Age: Born Approx. October 1, 2014
Gender: Neutered male
History:
In December, 2014, Jax was discovered under the hood of a truck when the owner heard a noise after starting the engine. The little fellow was only about six or seven weeks old at the time. His tail was badly damaged by the fan belt and had to be removed by the Last Chance Cat Ranch's veterinarian. Jax healed perfectly and his little stumpie still swishes and twitches as though it were a normal length. The PAW Society was subsequently asked to help find a permanent home for this young fellow.
Personality:
Jax is unique, he just is! He'll never be far away from you. He wants a deep relationship and will gaze at you with devotion, as though he understands you completely. But he likes to play too - especially fetch - and to climb up high. He's playful, of course, but melts against you when it's cuddle-time. He'll watch for you at the window and run to greet you when you come home. He wants to sleep on the big bed with his person. He truly has a very joyful spirit. He was in an adoptive home for several months and although much loved, one of the resident cats waged a war of terror against him. To serve everyone's best interests, we decided to move Jax back into foster care and to find a more suitable home. If left up to him, Jax wants to be friends with everyone, all pets included. He's truly adorable!
In a picture below, Jax is snuggled up with a dog-friend.