Imogen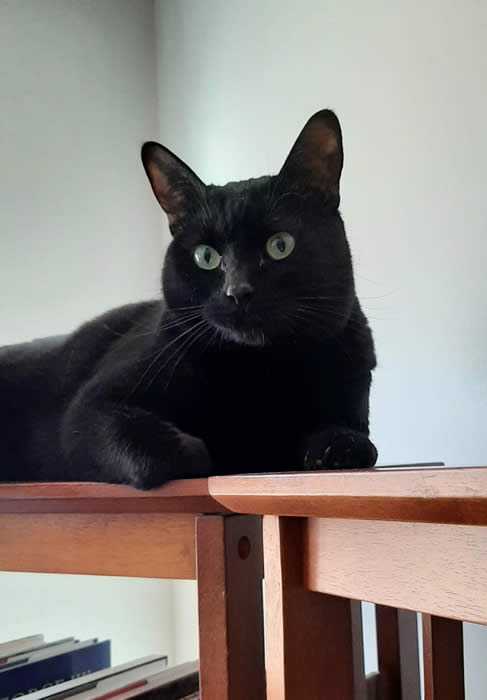 Imogen
Colour: DSH Black
Born Approx: unknown - to be determined - perhaps 3 - 4 years of age
Gender: Female, likely spayed, not yet micro-chipped - vet check is upcoming
History:
Imogen (new name) was left behind when her people moved away. Fortunately, the manager of the building where she lived is a cat-person and contacted PAW. A foster-homes just that week sent one of its charges off on a trial-adoption, so a spot was open, and Imogen slipped in.
Personality:
Talk about a stranger in town! We knew nothing about Imogen when she came to us, nothing except her gender. She has yet to see a veterinarian but we don't think that is a pressing need: Imogen looks to be in very nice condition, her black fur thick and smooth, her ears clean and her weight adequate. It took her only a few days to warm up to new people, but now she leans into a hand for pets and strokes, and curls her paws in enjoyment. This is remarkable, since we don't think she's even seen many humans other than her previous owner, never mind met many. Imogen is probably just one of those cats who loves human affection. As for other cats, well, she likely hasn't seen any of those, either, so she is still getting used to the idea of feline company in her new foster-home. We think she'll come around with time and patience. Even so, a one-cat person would probably find Imogen a one-person cat.
After three weeks, foster Dad said "She is such a sweetie. She doesn't seem more content than when she's lying next to a human."
If you are interested in Imogen, you are welcome to fill out an inquiry here.