Alani and Huey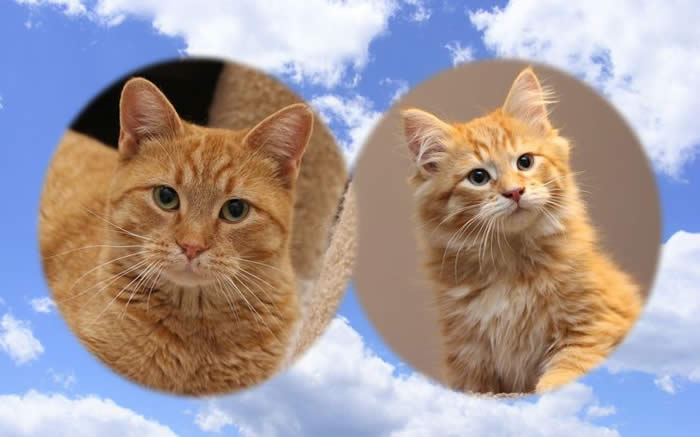 RIP Alani
Color: DSH Orange
Born Approx: October, 2020
Gender: Spayed Female (microchipped)
RIP Huey
Colour: DMH Orange
Born Apporx: August 22, 2021
Gender: Male
It is with the heaviest of hearts that we must announce the deaths of two marvelous little cats recently taken into the PAW Society. Alani and her kitten, Huey, were among several cats found and trapped at a rural campground in mid October, 2021. While Alani and another adult, Esme, went directly to a PAW foster home, Huey spent a few days in another home before being reunited with his mom in a PAW foster home; in the meantime, plans were made for their future.
Unbeknownst to anyone in PAW, the home where Huey and another kitten, his sister, Mochi, were housed temporarily, had an outbreak of panleukopenia (distemper) and an upper respiratory infection (calici). A few days after the two kittens were placed in the PAW foster home, they both began showing signs of the upper respiratory infection and, several days after that, Alani and Huey became very ill with panleukopenia. Despite immediate veterinary consultation and subsequent hospitalisation, these two beautiful cats died. Huey was no more than eleven weeks old; his mother, still a kitten herself, was not even a year of age. Two kittens who were in the originally infected household but not transferred to PAW, have also died.
Esmé and the aforementioned kitten, Mochi, have shown no signs of panleukopenia but did become very ill with the respiratory illness. With veterinary support and intensive home care, they are recovering. Indeed, Mochi is now behaving just as a kitten should, while Esmé is slowly growing used to being handled and pampered. All four cats were strictly isolated from other cats in the PAW foster-home, cared for by experienced foster-guardians, who were scrupulous in their safety precautions. Even so, this tragic event has been very hard on those who welcomed Alani and Huey, and did all in their power to keep them alive.
Alani and Huey were robbed of their chances of happy lives. But for the short time they were with PAW, they knew love and attention. They will be remembered.