Horace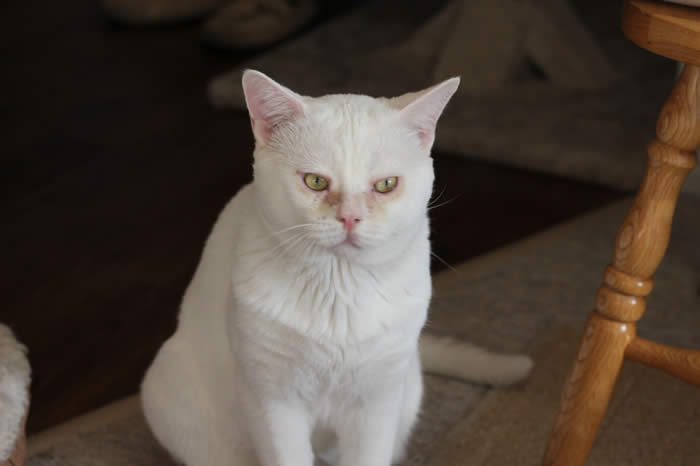 ADOPTED!
Horace
Color: DSH White
Born Approx: August 30, 2020
Gender: Neutered Male, micro-chipped
History:
We think Horace was another abandoned cat; he had a home, even affection, for a time, but then was cast out to fend for himself when his people moved. But he was lucky, and was fed by a kind person when he started hanging about her home. A rare spot opened in a PAW foster-home, and Horace was brought in. Soon after, he was health checked and neutered.

Personality:
Whatever his people had been like, Horace must have enjoyed being in a warm, safe environment, because he loves being in one now! It took him very little time to adapt to this new surroundings and new people. He was rolling over for chest-rubs and climbing onto laps his first day! That's the way Horace is: trusting and friendly, he is the sort of cat to find the best in everything. He quickly located different spots in his foster-home that he thought were ideal for him. He especially likes lying on top of a cat-tree by an open window; he doesn't always need to be looking out the window, but the fresh air seems to appeal to him.
Nonetheless, he does like watching the wider world. Birds and outside-cats are very interesting; sometimes, he will simply sit and watch what may be going on. Horace hasn't evinced an interest in getting back outside - though it's not certain he doesn't want to, so vigilance must always be exercised - but the front door of an apartment is fair game: after all, it looks like another unexplored room of his new home out there.
Horace is passive with other cats, showing little interest; perhaps a benign curiosity at best. We think he would do very well in a multi-feline home, and may even find a good friend there, someone to play with - he has a good sense of fun. He loves his wet-food, though not all varieties, and he enjoys dry-food, too, though not as much as wet. He came to PAW with a bit of conjunctivitis in his eyes, but that is being cleared up with drops; otherwise, he is a healthy young fellow. The only thing Horace is really lacking is a permanent home!