Buddy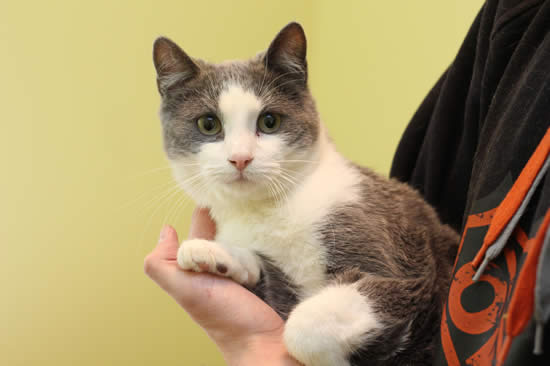 Buddy
Color: DSH Gray and White
Age: Born Approx. April 25, 2018
Gender: Netuered Male/microchipped
History:
Buddy and his sister, Li'l Lady, were found along with their brother, Harold (since adopted), at about two weeks of age in an abandoned dump truck after it had been moved. Sadly, efforts to locate their mom were unsuccessful. The three babies were in good condition and joined another couple of orphaned kittens, all needing a nursing mother cat. They were placed with Miss Mew (an owned cat) who had lost her own kittens through an unsuccessful caesarian section. Giving Miss Mew the opportunity to mother these little orphans helped her both physically and emotionally. She was a superb mom to every one of her little adopted charges.
Personality:
Buddy is a marvellous little fellow, a little shy, cautious but friendly, tentative but curious. He doesn't mind exploring on his own, but prefers to watch while someone else gets into trouble! Before his brother, Harold, was adopted Buddy would watch him to find out what to do in most situations. But that doesn't mean Buddy isn't a smart cat and a quick study. Studying is fine, of course, but Buddy also likes playing, whether with another cat - what fun! - or a human, and he has plenty of energy to expend. Come cuddle-time, though, and Buddy is right there. You see, Buddy is aptly named. He wants to be everyone's friend. He enjoys the company of other cats, especially if they are active and companionable, cats with whom he can play. Another kitten his own age would be wonderful, or an older fellow from whom Buddy can learn. But what Buddy really loves is people. He not only loves them, he loves having them around. He will walk up to his person and tap him with a paw – just to make sure he's there – then settle down for a nap. Or he will wake in the middle of the night and touch his human lightly, and then go back to sleep. Buddy is about friendship and togetherness. Whether with other cats or his favourite people, this little guy was made to be someone's pal.
If you'd like to inquire about Buddy, click here.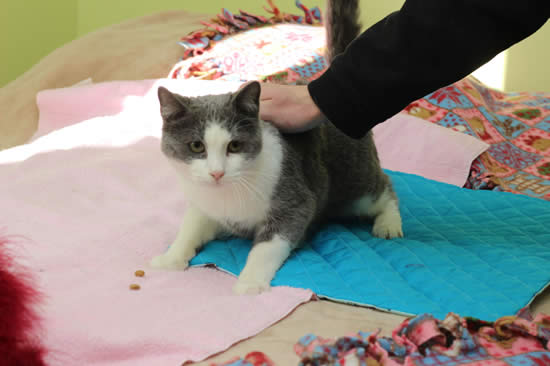 At a younger age: