Harlee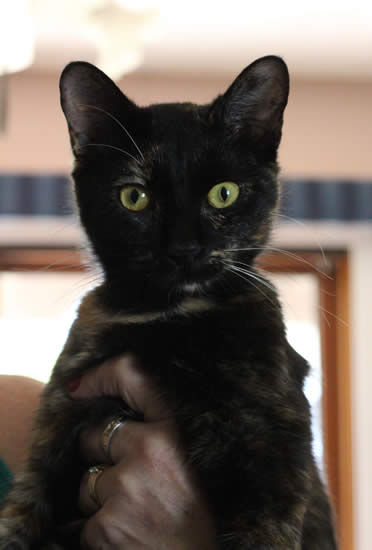 Adopted!
Harlee
Color: DSH Tortoiseshell
Age: Born approx. September 2014
Gender: Spayed Female
History:
Harlee's young owner started out thinking it was a great idea to get a kitten. But when a move came up and pets weren't allowed in the new place, Harlee became homeless. She was rescued by a family who continually demonstrate their compassion for cats. They volunteered to foster her for the PAW Society and now Harlee is looking for a loving, permanent home. She's been spayed and fully vetted.
Personality:
True to the tortoiseshell's lovely and loving personality, this little girl is super cuddly and will fall asleep in your arms (see picture below). She is very gentle and affectionate, a dedicated lap cat - or anywhere on your body! The moment you pick her up, she will lean in to find a comfy spot. She has a soft little voice. She likes to play with the resident adult cats when they are agreeable to it. At night, she will snuggle into your neck. In ancient times, a harlequin's role was that of "a light-hearted, nimble and astute servant, often acting to thwart the plans of his master". Could cats in general be more aptly described? A harlequin mask is usually made up of two colours, often black and white, and that's how little Harlee got her name. She has white whiskers on one side of her muzzle and black on the other. But it doesn't stop there, her eyebrows are the opposite colouring of her whiskers!
Sleepy-time: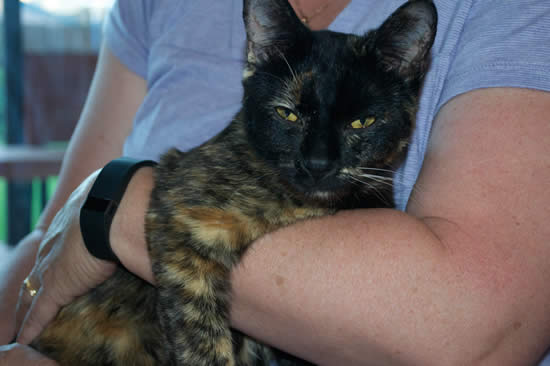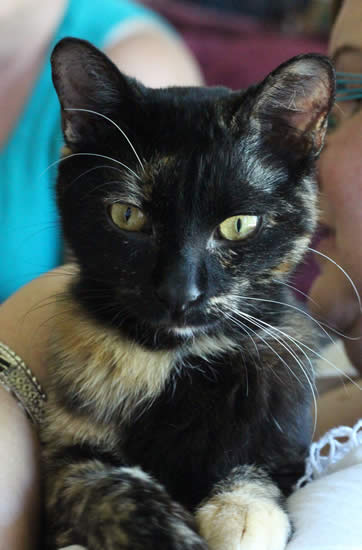 In your arms is her favourite place: