Fergus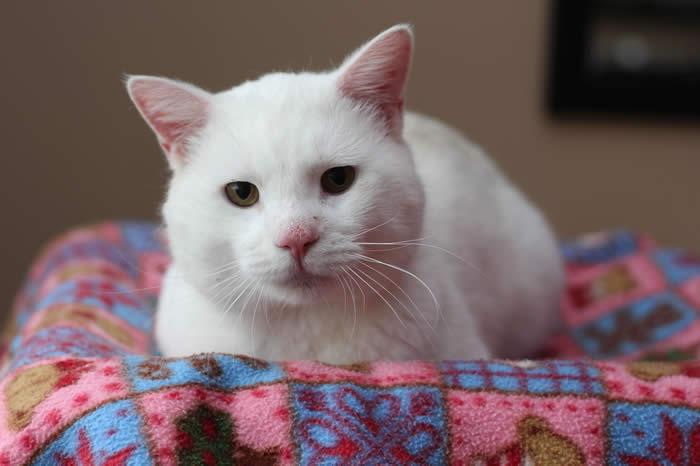 ADOPTED!
Fergus
Color: DSH White
Age: Born Approx. October 2018
Gender: Neutered Male/micro-chipped
History:
Fergus had been living rough in and around a gasoline station in a small rural community. He clearly felt that he couldn't go on existing day-to-day, so he asked for help by coming up to a woman who has rescued numerous cats in the past. Fergus has now been neutered and health-checked, and is living safely in a foster-home.
Personality:
Initially kept isolated from other cats in his foster-home (as all newcomers are, as a precaution), Fergus was hesitantly curious about his feline roommates. Even though there are several of them, the resident cats didn't keep Fergus from exploring his surroundings once released from a large kennel into a bedroom. Of the other cats, some were welcoming, others wary, but they didn't provoke Fergus; though cautious about them, none of their reactions made him angry or hostile. Sometimes startled, sometimes a little frightened, he was ready to accept them on their terms. And as for his behaviour with humans, he is very well socialized: on his very first night out of his kennel, he slept for a time beside his new foster-mom – on her pillow. Fergus is a sweet-tempered, quiet fellow, and always ready for some attention from humans. "Someone is going to have a marvelous adventure with this cat!" says foster mom.
We learned during his veterinary exam that Fergus is FIV-positive. We were disappointed, not because this condition would make him a bad addition to any family, but because we know people may fear him unnecessarily. FIV is a disease which suppresses a cat's immune system, and makes it harder for them to fight secondary infections. Humans cannot catch FIV, and cats catch it almost exclusively from deep, penetrating bite wounds, not nips and not scratches, but the kind of injury sustained in severe, life-and-death struggles (usually amongst unneutered male cats). There need be no worry of it spreading through shared food- or water-bowls, or litter-boxes. An FIV-positive cat can be a very happy only-child but can also live with other cats without their humans fearing for their feline friends. Of course, personalities and habits of the resident cats also factor into a successful integration. With good food, supervision of their health and, of course, an indoor life, FIV-positive cats can live long and happy lives. We know Fergus can do just that with the right person.