When a younger foster cat passes away, it feels like a personal failure. Felix died in May, 2017, but I was unable to share this shocking event on his web story until several months later. Due to an injury before he came into the PAW Society, his bladder was partially paralyzed and was unable to completely empty. By the time this was figured out, Felix had developed an infection that did not respond to antibiotics. The infection had probably been there for a long time without presenting symptoms and eventually there was a catastrophic affect on his kidneys. Felix had a very big presence in my home - he enjoyed being the boss of his life - and I am glad we could give him that. Because he was unable to jump and therefore could not escape, Felix was allowed to go in the backyard whenever he wished. I like to think he enjoyed his life. Fresh snow was his favourite. ~Audrey
Felix
Description: DSH White & Dark Tabby (tail-less)
Gender: Neutered Male
Age: Born Approx. August 5, 2011
History & Personality:
In late November, 2011, PAW was contacted by someone who had rescued two four-week-old kittens earlier that fall. The kittens were found in the yard of a home from which renters had recently moved. As to whether the kittens belonged to that family's cat, no one knows. A PAW volunteer offered to foster the little fellows, about four months old by then, and arrangements were made to have the two dropped off at a vet clinic for their health check and vaccinations. Just prior to them coming in, we received word that one of the kittens had a leg injury, although he was still active and weight-bearing. At the vet assessment, it was felt the injury was in the hip joint, although nothing showed up on an x-ray. We decided to take a wait and see approach as kittens can heal quickly.
One week later, the foster mom advised us there was more to his injury than initially thought. Felix was now leaving behind small amounts of urine (about the size of a couple of toonies) in places where he had been sitting. He was also feeling significant pain when picked up. We moved Felix to another foster home where his environment could be more controlled for awhile. We don't like separating bonded kittens but there was no other choice for Felix and Rocky. Another round of tests ensued, again nothing definitive.
After another few weeks, it was determined Felix's injury was of a spinal nature. A telephone consult with a neurologist in Calgary corroborated this diagnosis. The damage is permanent. He has some issues with urinating where he shouldn't - but he also uses his litter box. His right back leg has some paralysis and randomly splays out to either side when he is in action-mode. His gait is crooked. But this has not slowed him down. The best news is that Felix no longer has any pain. So, back to the question....Is there Someone for Everyone? Felix is lovable and loving, very well socialized and a normal, happy cat. We think he would be a fine little friend for the right person, as long as the home has hard flooring and his guardian doesn't mind wiping up periodically. His current foster provider would be happy to share what it's been like to care for adorable Felix.
Felix now: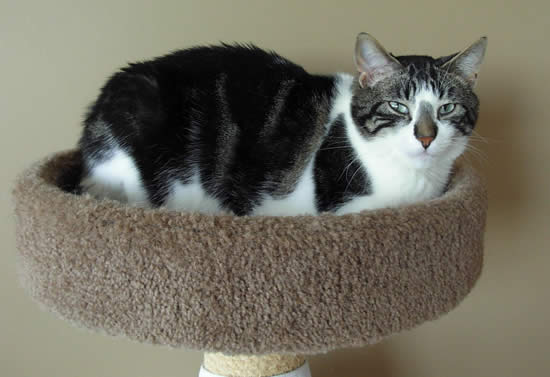 Felix as a teenager: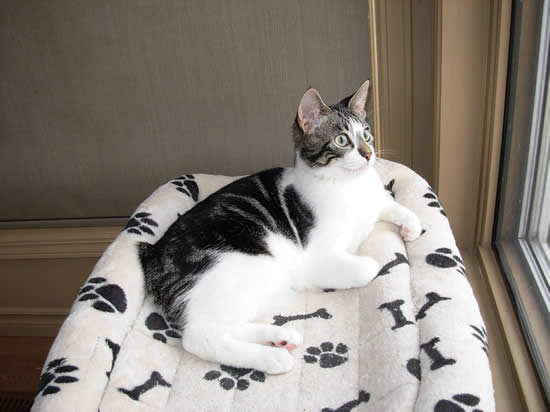 Kitten Felix at his first vet appointment (a good view of his little stumpy tail):