Echo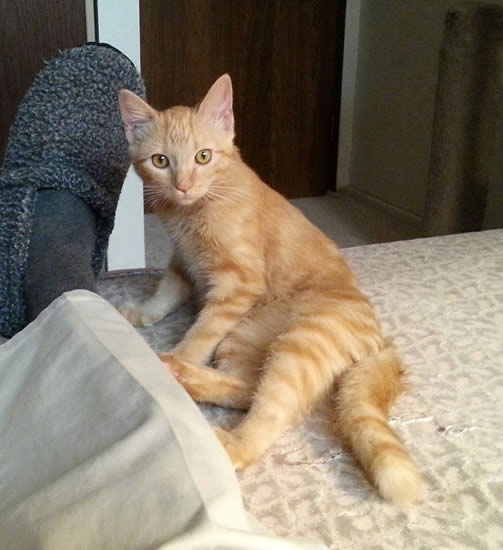 ADOPTED!
Echo
Color: DSH Orange Tabby
Age: Born Approx. June 1, 2017
Gender: Female (kitten)
History:
Echo was found crying piteously behind an industrial work-place in Lethbridge in early September. She was not feral; not shy in the least, she was trying her best to get inside a building where she knew people were. She was probably one of a litter and mother cat rescued a few days earlier near where she was found, a litter that may have been kept by a family for awhile after their brith and then abandoned. To leave a little cat family alone and without shelter is unthinkable; fortunately, Echo had come to the right place: two people who had adopted rescued cats from PAW worked there and she was taken in by one of them.
Personality:
Clearly, Echo had a home - of however short a duration - in her brief life. She was friendly from the start and knew what a litter box was for. She is very well-mannered, even if those manners are stretched a little by the natural curiosity of a kitten. Yes, Echo is all things kitten: playful (try to tire out this little dynamo!), interested (and interesting) and adorable. And smart! She learns household routines quickly and within days adapted herself to her foster-home's arrangements. She cries when hungry but being put on a nutritious and regular menu solves that problem. She cried as well when left alone but soon learned when her humans would be present, when they were awake and when they were asleep.
Echo is doing well with another cat in her foster home. He's old enough to teach her feline ways but young enough to play with her. Kittens adapt swiftly and are easily integrated within an existing household. Echo has been to the vet and found in very good health - another sign that she hadn't been outside for long. Her coat is soft and smooth, her teeth growing in just fine and her eyes a beautiful amber. She has had her first vaccinations and will be spayed when old enough. She is now available for adoption. Her spay surgery will be arranged by PAW when she is old enough and is included in the adoption fee. She will be micro-chipped when spayed.