Dot (Dottie)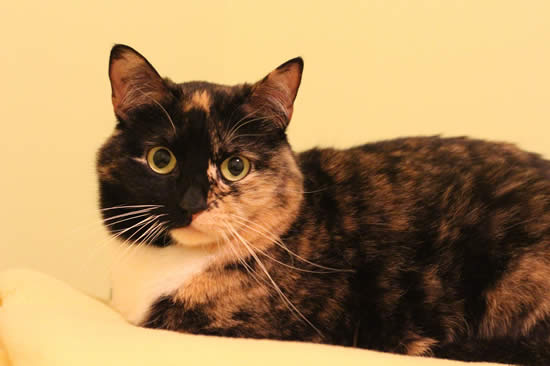 ADOPTED!
Dot (Dottie)
Color: DSH Tortoiseshell and White
Age: Born Approx. Aug. 10, 2012
Gender: Spayed Female
History:
Dottie was rescued as a kitten in the early fall of 2012. She and her litter-mates and their mom, Lily, were just barely surviving behind a restaurant on 3 Avenue S. in Lethbridge. They were brought to safety just in time after a weather event. The little mom, who had never had a home, is still with the Last Chance Cat Ranch. Because mom is a shy cat, she will remain in their care as a sanctuary cat. However, Dottie, much more social because she was rescued as a youngster, has been transferred to the PAW Society.
Personality:
Now you may think that Dottie looks a bit startled in her pictures and she was, to some extent. We had transported her to a different foster home for the purpose of taking her photos. She was a little unsure about what was going on; however, this open-eyed look is also how she looks most of the time. Her pretty, round eyes are generally wide open, taking in everything they can. She's a contemplative girl, usually found quietly watching everyone in her environment. She loves attention, but she gets picked on by one of the cats in her current foster home and, as a result, spends a lot of time on top of the fridge! We are hoping to place her somewhere with fewer or no other feline roommates - either in a foster home or an adoptive home. She lives with three cat-friendly dogs and does just fine with them. Tortoiseshell cats are incredibly intelligent little beings and what they want most is a close relationship with their person. She loves to be talked to, petted and fussed over. Her fur is soft as a bunny's, a sign of her good health. She enjoys both canned and dry food. Dottie would love to be your friend.