Cookie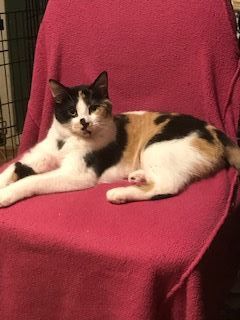 In Memoriam, RIP Cookie
Cookie
Colour: DSH Calico
Age: May 15, 2019 - May 21, 2020
Gender: Spayed Female
Cookie was one of five siblings seen living behind a business on the north-side of Lethbridge, where there was already a managed feral colony. The youngsters appeared suddenly, in October of 2019, and were already about five months of age; they had not been observed previously, so it's thought that they were a litter that someone didn't want and abandoned. Plans were made to trap them. All were eventually captured, but Cookie was the first. Though previous cats on the site were released after they were spayed or neutered, it was thought that this group was young enough to socialise.
Placed in the home of experienced foster-guardians, Cookie was soon joined by her brother, Jaycee. They were slowly introduced to life inside. Thanks to the patience of their new guardians – and to the welcoming attitude of the resident cats – the plan to socialise these two was successful. It was a matter of a few months before they were out and about in the home. Though they frightened easily, they recovered quickly; no one could have guessed they had ever lived the 'wild' life outside.
Cookie was described by her foster-mom as 'very gentle'. Indeed, she liked to play, with people and cats, but when the latter became a little too rough, Cookie retreated. She loved the feel of being petted, but belly-rubs were her favourite touch. These could be endless, so far as she was concerned. She tolerated being held, but trusted her people to let her go after a minute; they never failed her.
As she approached her first birthday, Cookie showed signs of feeling unwell. Her appetite diminished. When she was taken to the veterinary hospital, the doctor wanted to conduct an exploratory surgery. A large growth was found to have developed among Cookie's intestines. It would have been impossible to remove and not vitally impair blood-flow. It was decided to let Cookie go during the operation. It was later determined through a tissue biopsy that Cookie likely had contracted Feline Infectious Peritonitis. It is a mutated strain of one of the many corona viruses and there is no treatment.
Cookie is mourned by all of PAW, but especially by her foster-guardians, the son of the family in particular, who grew very close to the little calico girl. If there is consolation for such a loss, it may be that Cookie knew security, companionship and love for the majority of her short life. In return, she gave the affection and trust that only a cat who knows she is part of a family can.