Clementine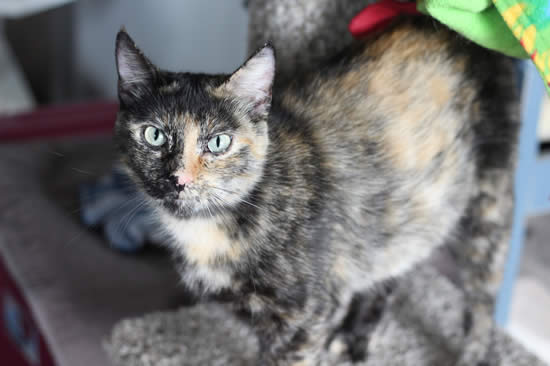 ADOPTED!
Clementine
Colour: DSH Traditional Tortoiseshell
Ages: Born approximately January, 2016
Gender: Spayed female/micro-chipped
History:
Clementine had been hanging around a warehouse in Coaldale but the business had already provided a home to three other cats in their shop. They contacted LCCR who agreed to take her.
Personality:
If you're looking for love, you should meet this sweet-tempered tortoiseshell girl. Clementine is a very affectionate little creature, who longs to have her own human to adore (in our experience, tortoiseshell cats thrive when they have a deep bond with their person). She's very demonstrative, and expects you to be too: petting and kissing her will give her the assurance she needs, and she will give back the same. A good conversation lets you know what she's been up to all day, and she may even talk to you while you do chores, though she will love you too much to help… And afterward, maybe some play-time? Clementine likes little balls, batting them and chasing them; you just need to sit and be entertained. Because she's had the experience of being abandoned and homeless, she probably worries that she won't find someone to love her; she's all about belonging. Recently the PAW Society showcased her as one of our adoptable cats at Pet Parade. It happened to be on the same day that Halloween photos were being taken of owned pets. We weren't sure how she would react to all the excitement, but we needn't have worried; she took it all in stride. She has lived with multiple cats in her foster home and has managed nicely there too.