Claude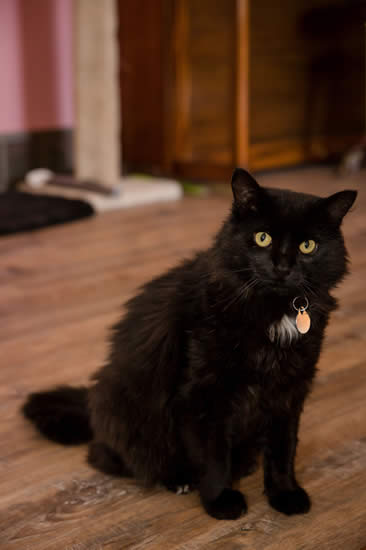 ADOPTED!
Claude
Color: DMH Black with white patch on chest
Age: Born approx. October 13, 2017
Gender: Neutered Male
History:
Claude was a stray being fed twice a day for about six months by a kind person. During that time, contact was made with someone on kijiji whose cat had gone missing and matched his description - the time-line fit too. Unfortunately, there was no follow through in retrieving him and Claude remained ourtdoors and homeless. Over the months, he became quite familiar with his meal-provider (see picture below of Claude waiting patiently for his dinner). She was able to pick him up and pet him and he waited for treats following his meal. But in January, 2019, as the cold winter set in, his rescuer contacted us for help. She felt that life was not going to turn out well for her little neighbourhood friend. A plea went out from PAW and one of our long-time volunteers offered her home as a temporary refuge. Claude tested negative for both Feline Leukemia and Feline Immunodeficiency Viruses.
Personality:
In the beginning, Claude was wary and uncertain. Well, not any more! This healthy fellow is a fully-fledged citizen – he even knows the language! Very quiet when he arrived in his foster-home, he nonetheless made friends with the two resident mancats, and with the help of a patient foster mom, learned to trust people again. Then – a real sign of comfort and security – this former outsider-cat started talking. He speaks to his person all the time now. Just as he began to enjoy being petted and brushed by watching his feline roommates, so too did he pick up the lingo by listening to his cat-pals. Now, there's no looking back for Claude. He is more than ready for his own, permanent home. He would do equally well as an only-cat – monopolizing his human's time – or as a member of a household already boasting an easy-going cat. Claude would very much like to have a cat-friend. He can learn still more from a chum – and maybe teach something, too! The only thing missing is a family of his very own.
Claude waiting for supper on rescuer's deck before he was rescued: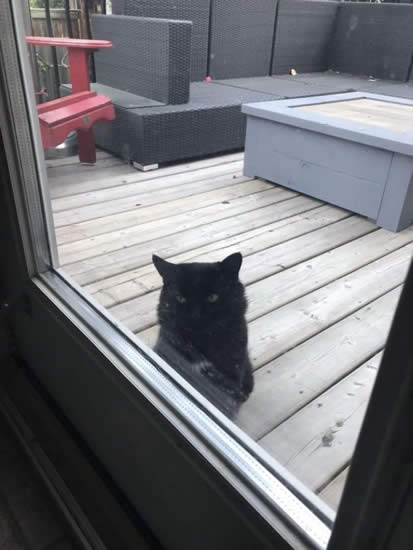 Wow - look at him now! What a beautiful boy!