Carmella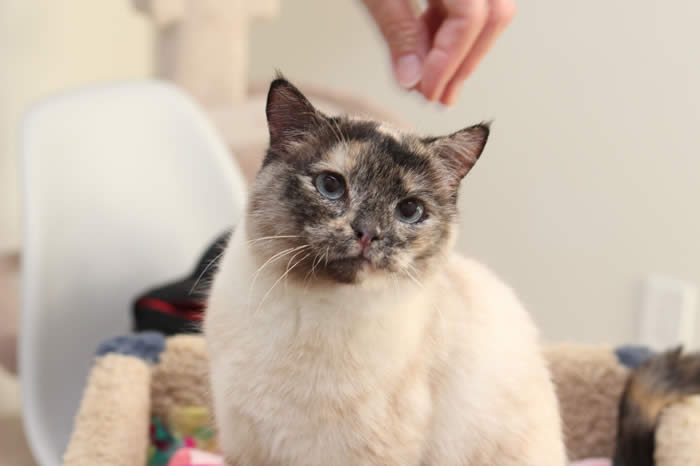 Carmella
Colour: Tortie-point Siamese (blue eyes)
Born Approx: Adult, vet estimates born approx. November, 2018
Gender: Spayed Female (microchipped)
History:
Carmella (new name) was camped out on someone's porch for several weeks before her caregiver called to see if we had room for her. No one has advertised her as a being lost. She has been health checked, vaccinated and microchipped. Our veterinarian shaved her tummy which revealed a spay scar. She has put on weight since being rescued - which is what we were hoping as she needed more padding along her spine. For a cat who could possibly have lived outside for awhile, she has adapted to indoor-life just fine (as most stray cats do).

Personality:
Carmella is a sweet and friendly little lady who is looking for a deep relationship. She is currently in a foster home with several cats which initially was a bit daunting for her. Since that time, she has integrated quite well although still holds herself back. She doesn't use her voice, preferring not to draw other's attention perhaps, but don't let that fool you. Those bright little blue eyes don't miss a trick. She is a keen observer of everything that goes on in her world. She is comfortable with being handled and picked up and very much enjoys being petted. She will let you brush her (now) beautiful coat. We think she may have been fed principally people-food as she can be quite insistent around the humans' dinner plates :) Foster mom transitioned her to good quality canned and dry foods and these days she enjoys whatever flavour is on offer (if you're familiar with cats, you'll know that's a win!). "She's such a cutie and I am enjoying her very much. At night, there's too much competition for the bed so she prefers sleeping on a cozy blanket in a cat carrier." If you have room on your bed, we think she'd choose that.
If you are interested in Carmella, you are welcome to fill out an inquiry here.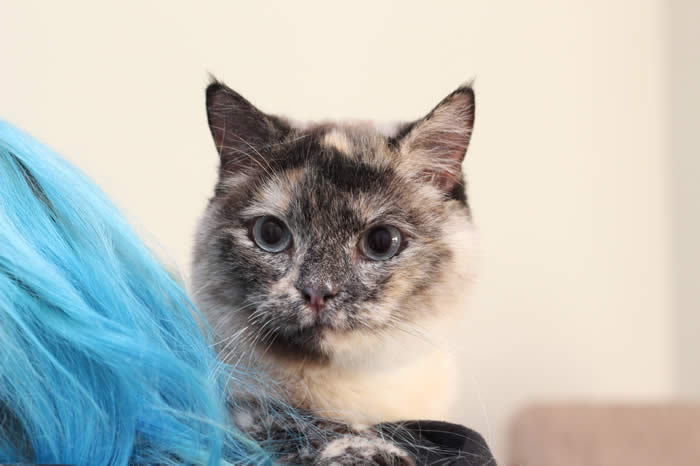 Slurp..loves her treats