Butters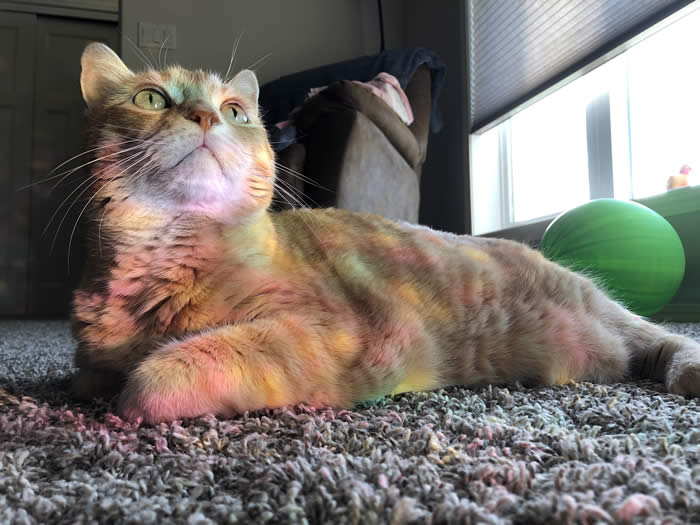 From Rebecca and Family,
"On December 1, 2020, Butters made his journey over the rainbow road. I adopted Butters from PAW (he was 2 years old at the time) in 2008 although he was going by the name Antonio. He was the most kind and gentle cat and we feel so blessed he was part of our lives for 13 years.
He moved with me three times, and eventually had a little fur-sister Sunshine who joined the family in 2013 and oh-boy, she was so sassy with him but he just let her be the boss for a while. In 2018, he got to meet our baby and with some mixed emotions about the pitch of a new-borns cry, he accepted her immediately. He was her pillow, and a snuggle-pal and often she would tell him he was so, so silly. She named one of her stuffed animal cats Butters as she is learning to deal with the loss of her buddy. He had an impact on her life too and she is only 3 years old.
We have felt a hole in our hearts and in our house as his passing was very sudden. We thought he had a gum or tooth issue and made an appointment at the end of the week for early the next week but he got worse over the weekend and when they were able to see him first thing Monday, we were told the worst news possible, that he had cancer and it was time to say goodbye. You can't prepare yourself for a moment when you think you're going to need a tooth pulled but are making much harder decisions. It was absolutely heart-breaking."
~Rebecca is a graphic artist and has volunteered her time over the years to create beautiful posters for PAW. For many years, Butters has watched over our Adoption Cats (see him at the very top left hand corner of several of the site links). We are very grateful to Rebecca for providing such a beautiful and loving home for Butters all these years. We offer our sincerest condolences~