Buddy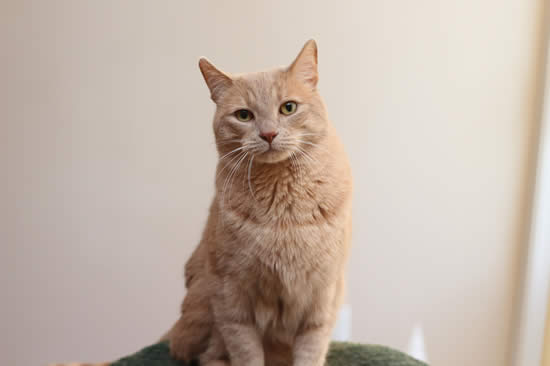 ADOPTED!
Buddy
Color: DSH Light Orange Tabby
Age: Born approx. April, 2010
Gender: Neutered Male
History:
The not-so-unusual story of an abandoned cat: A compassionate and aware lady in a neighbourhood notices a new cat. He's a friendly, beige-coloured boy, already neutered. The sightings become uncomfortably frequent. She suspects he may be homeless. She decides to put out some food - just to see if he's hungry. He is. Soon, he is staying in her yard all day. Winter is coming, so she makes a warm area for him in her garage. She asks around - does anyone know who this cat belongs to? Someone does: "He used to live with the people on the corner over there. After losing a family member, they moved away. He's their cat." Not anymore it seems.
Now, a few years later, Buddy needs help again. His person, his guardian angel, the one who's been devoted to him since rescuing him, is dealing with a serious illness and must find a new home for her beloved Buddy. He's recently been vet-checked and pronounced healthy and well.
Personality:
Pretty-boy Buddy is a wonderful family cat. He's a happy, active, well-adjusted fellow. He also shares his life with a senior kitty named Ketis (adopted from PAW a few years ago). The 'brothers' have had a great relationship for all this time. It's been especially good for Ketis because Buddy keeps him active. Buddy has a very positive outlook on life and likes to see everyone enjoying their lives. One of his favourite things to do is to lie down on mom's vibrating massage bed, tummy-side down with front and back legs stretched straight out. Oh he could stay like that for hours! From his window perch, he enjoys watching birds, cars and anything floating by in the breeze. After a full day of performing his duties - playing, snoozing, keeping an eye on his human and welcoming visitors, he looks forward to tucking up beside his person for the night. Don't worry, we are confident Buddy will transition well to a new home. He loves people.