Brulee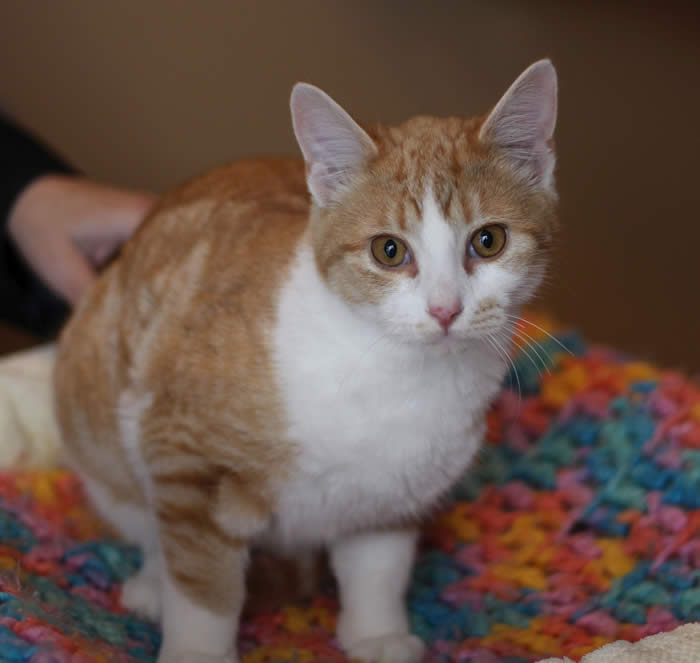 RIP Brulee. This dear little fellow, so new to us in the PAW Society, died suddenly on November 18, 2021. Just two days prior, he had been diagnosed with calici virus. It's a common upper respiratory infection, quite contagious, but not usually deadly. He was being treated for a couple of painful sores on his tongue and gums (a common symptom of calici). All his vitals were normal. He began to present signs of respiratory distress on the morning of November 18 and passed away before he could be rushed to the hospital. Sadly, we do not know why he died. Was there an underlying condition? Necropsies are costly and have to be done by a special team at the University of Calgary. However, our veterinarian did a postmortem test for panleukopenia (distemper) and that was negative. It is very difficult to accept that he is gone. He was the most loving young fellow and we were planning for his beautiful future.
Brulee (as in creme brulee - literal translation is burned cream)
Color: DSH Orange & White
Born Approx: May 1, 2021
Gender: Neutered Male (microchipped)
History:
It is suspected that this friendly, young fellow was dropped off in a small town outside of Lethbridge. He made his way to a family's deck and did not leave. Their cat befriended Brulee and enjoyed his new little friend so much that he allowed the youngster to cuddle up to him. The homeowner kept an eye out for their little visitor and made sure he had enough food to eat; however they were proactive in finding a much safer option for him. After searching for an owner for several days without success, she then contacted someone affiliated with the PAW Society and, through that person, a foster family was found.
Personality:
To say Brulee is a peach would be an understatement. His foster family is delighted with their young guest. He's a good sized kitten, and we can safely call him a kitten because our veterinarian discovered he still had a couple of baby teeth. That would have aged him at right around six months of age and old enough to be neutered. He is very playful and wants to be friends with other cats. To say he loves people is an understatement! Gentle Brulee will gaze adoringly into your eyes at every opportunity. Pick him up and he will curl right into your neck. Being physically close to his human friends makes him so happy that he will even drool a little bit. His coat is in excellent condition and soft as a bunny's. Brulee simply loves life and everyone in it. The more the merrier!
.