Billie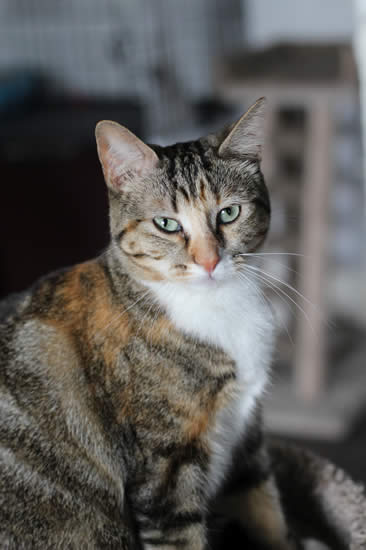 ADOPTED!
Billie
Color: DSH Tabby-Tortoiseshell and White
Age: Born Approx. May 6, 2018
Gender: Spayed Female/micro-chipped
History:
Billie's story is, unfortunately, very common. She probably had a home at some point (because she is very well socialized) but then lost her way for some reason, perhaps wandering in search of food and shelter. She was found in the middle of winter and taken in by a concerned person, but no one responded to the posted ads.
Personality:
Wow. It's difficult to limit the adjectives for this dear little cat: beautiful, calm, gentle, happy, we could go on. The PAW Society recently showcased Billie at a Lethbridge pet store, Pet Parade, and she didn't stop purring and flexing her little paws for the entire three hours she was there. Pick her up? Sure! She'll snuggle on your chest and press her little head into the curve of your neck. She currently lives in a foster home with multiple cats and we are quite sure she's looking forward to living with fewer feline roommates - although she makes the best of it and gets along with everyone. What she really wants is to be the apple of someone's eye, a human's eye, that is. Billie's going to make a wonderful addition for the family who invites her home.