Benjy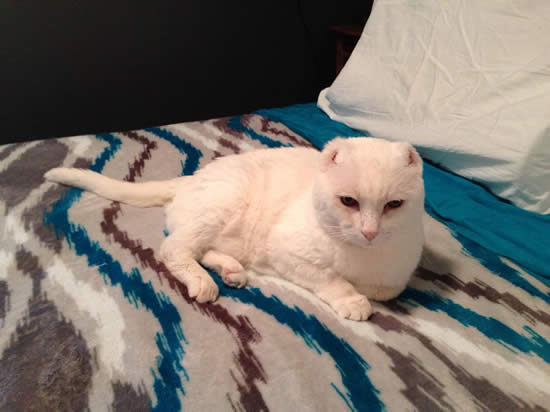 Adoption Pending!
His foster parents can't part with their sweet boy
Benjy
Color: DSH White
Age: Born approx. September, 2005
Gender: Neutered Male
History:
Benjy came into PAW's care in a round about way, as cats often do. His elderly human mom passed away and left her two beloved cats behind - Tiger and Benjy. The home care worker took it upon herself to find homes for the two lonely boys, now orphaned. She advertised on kijiji, stating the cats were both about fifteen years old. After no success, she placed a desperate call to Elizabeth at the Last Chance Cat Ranch, begging for help. The LCCR agreed to take them, under duress, as there was little to no room for two senior cats. Soon after the cats were delivered, it became evident that Tiger was not well. It turns out he was in end stage renal failure and, sadly, had to be euthanized. These poor little cats had been through so much. PAW was then asked for help with Benjy and soon, an avid and compassionate supporter of rescue stepped forward to foster him.
First order of business was to get a health check. From that, our vet recommended a dental as soon as possible - which we did. At the same time, we asked for an opinion of his age and, interestingly, it was estimated that Benjy was several years less than fifteen, more likely nine or ten. Our vet took into consideration Benjy's overall health (blood work, etc.) and excellent body condition. Previous vet records had indicated he lived with his person for only seven years, so his revised age could very well be accurate.
Now, why does this little guy look so unusual? It's because he had his ear flaps surgically removed in 2012 due to squamous cell carcinoma. White cats are at high risk for developing skin cancer from too much sun exposure. The records indicated his person took him to the vet because he had a sore on his ear that would scab over but not heal. Wounds that will not heal are usually an indicator of a bigger problem. Squamous cell carcinoma starts out as small dark-ish spots on the ear tips or the nose and progresses to open wounds. In Benjy's case, the cancer was caught in time to be successfully treated because it was possible to remove enough tissue to achieve clean margins.
Personality:
A more sweet and gentle boy you will not find! It took about five minutes for Benjy to come out from under the bed after arriving in his foster home. He just couldn't resist the quiet coaxing of his foster parents. No one got much sleep for the first couple of nights due to Benjy's "purring, rubbing, bumping, grooming and drooling." But soon the nights became more restful for everyone. Benjy was obviously getting his love quotient filled - and having his mouth issues resolved surely helped too. Integration with the rest of the furry family members, which includes resident cats and a bunny, has been seamless. He still looks for reassurance and keeps a close eye on his foster parents. "He will come looking for love when he wants it and if you stop before he's ready, he will gently reach out a paw and touch you as if to say, I'm here, please don't stop yet." He also has excellent indoor manners. What a delightful little treasure for some lucky person!
If you would like to adopt Benjy, you are welcome to fill out an Adoption inquiry here.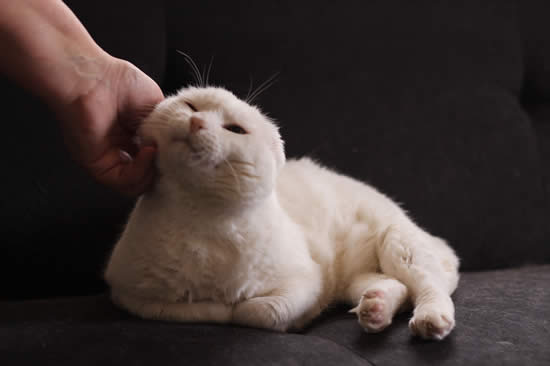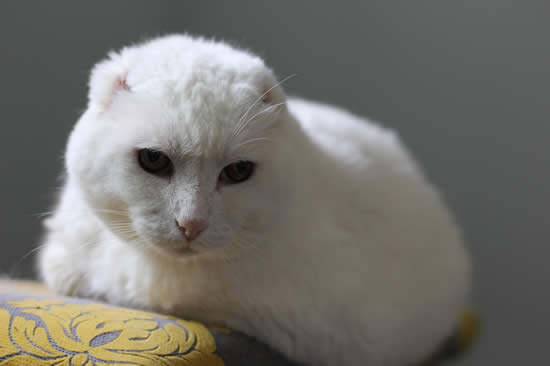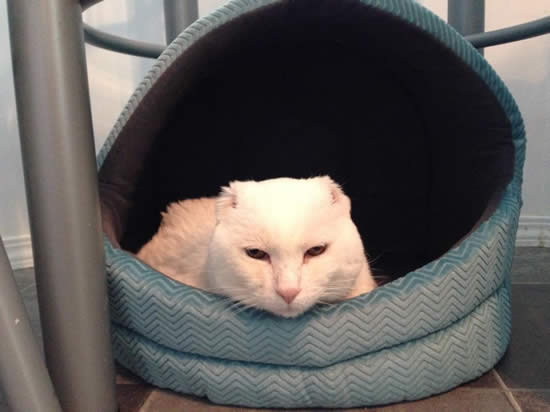 Benjy and Clover out in the cat-run: