Bailey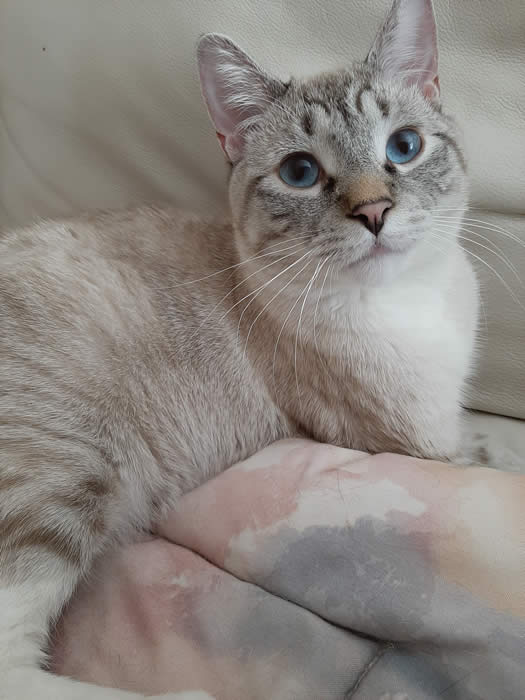 ADOPTED!
Bailey
Color: Lynx Point Siamese Cross
Age: Born Approx. June 25, 2020
Gender: Neutered male (micro-chipped)
History:
Bailey and his sister were found as a young kittens under an abandoned barn in a rural area. The little female was placed in another home and Bailey went to live with his rescuer. There he lived happily until an out of province family emergency in late April/21 made it necessary for Bailey's person to quickly find a place for his cat to go. PAW agreed to accept Bailey into its adoption program. He was vet checked and neutered within a few days and has now been double vaccinated and micro-chipped.
Personality:
Bailey is busy and happy-go-lucky. He likes to play (of course) but also likes to cuddle and to be picked up for hugs. He is very trusting and wants to be where you are - but when he's tuckered out, he enjoys long, lazy cat-naps (see below). Toys, well, he likes them all, especially a cat-tunnel to race through and play hide-n-seek. Bailey has good litter-box manners and uses a scratching post. He's still learning about kitchen counters. We were told he had been around children and was gentle with them. He lives with a small dog in his foster home and was cautious at first but they became used to each other. At times it looks like Bailey would like to play with the little dog, but the Yorkie is not about to lower his standards... Bailey will enjoy sitting on your lap, or chest, and wants to be on the human's bed at night. His 'fear of missing out' is strong and therefore does not like to be behind a closed door - unless his person is with him. As for other cats, he likes those who will play hard with him - wrestling is his game of choice. If you have a younger, energetic cat who needs a friend to help wear off some energy, Bailey just might be the one! Like all cat to cat introductions (cat to dog too), they need time to become familiar with each other. Hissing is simple cat-speak for "'I don't know you!"