Armando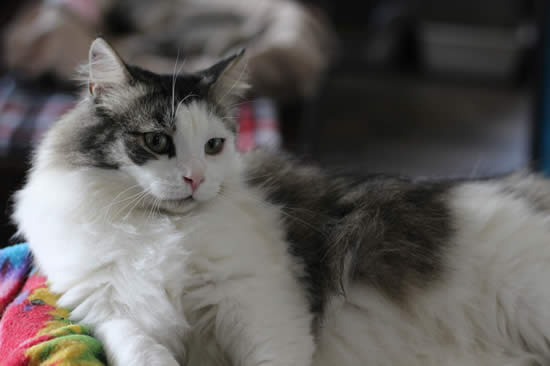 ADOPTION PENDING!
Armando
Colour: DMH White with Tabby - stubby tail - possibly part American Bobtail
Age: Born approx. March 2016
Gender: Neutered Male/micro-chipped
History: Armando was an owner surrender (no fault of his) to the Last Chance Cat Ranch in the spring of 2018. He was subsequently transferred to the PAW Society.
Personality:
This is one of Urban Dictionary's definitions when the name Armando is searched: "a loving, sweet, nice guy; the perfect boyfriend. When you're with him you feel like nothing else matters. He is the type of guy who pleases his girl in so many ways." Well, we had a good chuckle, and then quickly realized that this fits our little cutie-pie as well! Our Armando is adorable and perfect too! He's a very chill guy and love-love-loves his people. He also does well with other cats although, for the most part, he prefers to give his attention to his humans. His adorable little compact body will fit nicely on your lap. He loves tummy tickles and face rubs and really cannot wait to be invited into a family who will return the love he is so very ready to give. He's waited long enough!
If you would like to inquire about Armando, click here.