Ali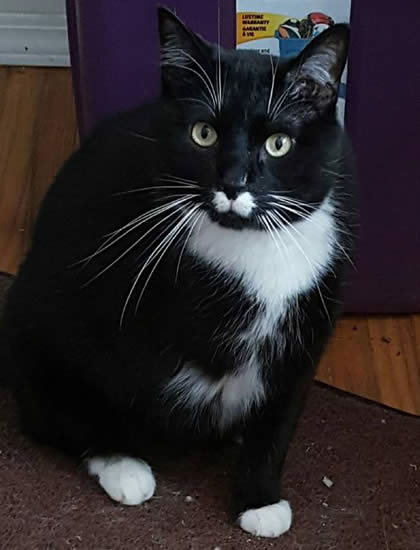 Ali
Color: DSH Tuxedo with White Moustache (missing right front leg)
Age: Born Approx. August, 2012
Gender: Neutered male
History:
Ali was rescued by the Last Chance Cat Ranch from a stray cat colony on 13th Street in north Lethbridge. We don't know how he was injured but his right front leg was badly broken and dragging along beside him. He was eventually trapped and his leg amputated. It's amazing how quickly cats heal from an amputation and go on to adapt to just three legs (called tripod kitties). It's unknown how long he'd suffered with this injury.
Personality:
Ali is a shy boy and it's likely he'd never had a real home. Now he's in a foster home where he's watchful and quiet. Street life taught him to be wary of humans. It takes time for shy street-cats like Ali to move past the fear of humans but the rewards are worth it for everyone. They are wonderful little creatures to live with. Their needs are simple - time and patience. Seeing their progress is so very gratifying. Interacting with them through play is a great way to help with their socialization. But their best quality is immediate: they make great companion cats for other cats. Usually they've lived with cats their entire lives and therefore know how the cat world works. We've seen this time and time again with shy cats - they are happy to be around cats - and we mean really happy. Ali is also gentlemanly, always offering his cat roommates a turn first at the food bowl. Please consider inviting little Ali into your home. You'd be saving his life - again.
You are welcome to fill out an Adoption inquiry here.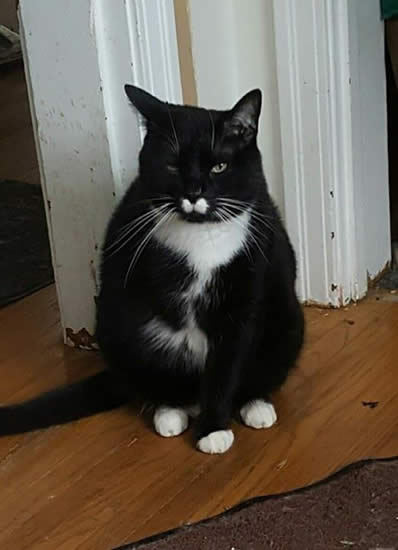 Count the little white feet...