Afton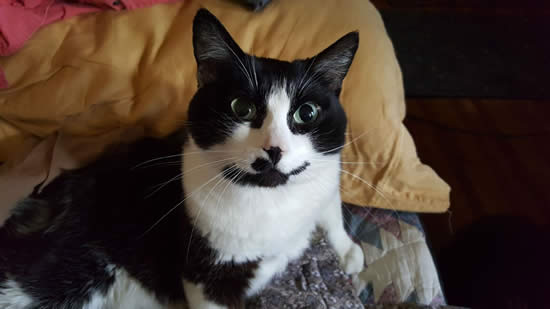 Adopted!
Afton
Color: DSH Black and White
Age: Born Approx. May 2013 (vet est.)
Gender: Spayed Female (micro-chipped)
History:
Afton had been hanging out in a yard for several months. She was allowed to come and go from the family's garage but they finally asked for help from one of the local rescue groups. Afton (new name) had a large solid matt of fur down her back which was shaved off at the vet clinic. Other than that, she received a clean bill of health and was deemed to have been previously spayed. She is a good weight as she'd had a food source. She's currently in a temporary foster home but she needs either a permanent home or a foster home very soon.
Personality:
This is a pretty amazing little cat. Most rescued cats require time to get used to being relocated, especially if they are put into a multi-cat foster home that also happens to have a couple of dogs. But Afton took it all in stride. Obviously very grateful to now be safe, she fit right in and was on the human bed immediately after a short quarantine period. She even enjoys a bit of mutual grooming with one of the cat-friendly elderly pups living there. Very good-natured and calm, love-love-loves people, wants your lap and wants eye contact so she can communicate how full of love she is!