Adah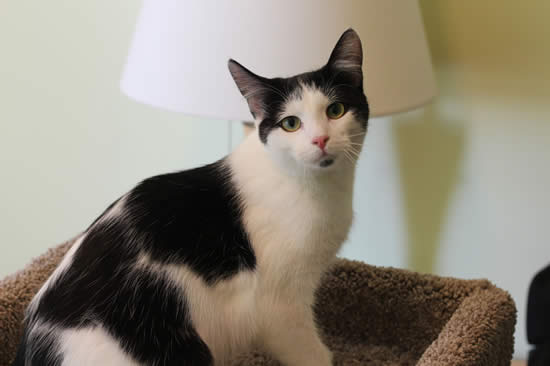 ADOPTED!
Adah
Color: DSH White & Black
Age: Born April 27, 2018
Gender: Spayed Female/micro-chipped
History:
Adah came from a managed feral colony on her second day of life. Two of the three in her litter had perished and we made the decision to remove Adah before that became her fate as well. It seemed that their young mom (who was new to the colony) was too inexperienced to cope with caring for kittens. Adah was one of five orphaned kittens (four from other situations) placed with a nursing mom (Miss Mew) who had lost her own kittens through an unsuccessful caesarian section. Giving Miss Mew the opportunity to mother these little orphans helped her both physically and emotionally. She was a superb mom to every one of her little adopted charges but was especially protective of Adah.
Personality:
Strong, curious and active, Adah is a beautiful, healthy, white and black girl (with a brush of black on her chin). Her wise little face makes her look more mature than her age but there's plenty of kitten in her too - don't you worry about that! Her personality is still developing and you have the chance to be the biggest influence in her life. Play with her - lots! - cuddle with her, talk to her and care for her. She knows how to love you back.