Reuben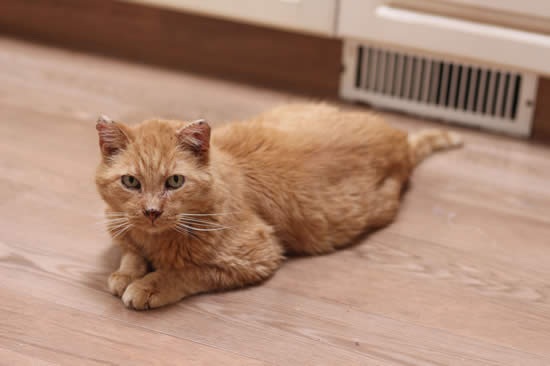 Rueben waiting for his supper
Reuben (permanent foster cat)
Color: DSH Orange Tabby
Age: Born approx. 2002
Gender: Neutered Male
History:
In the late fall of 2008, the PAW Society was still desperately searching for a lost foster cat, Romie. As part of the search, we delivered flyers to many households on the west side of Lethbridge. From time to time we would receive a call from someone who thought they may have seen Romie in their neighbourhood. We would then rush to that location, set up a trap and wait to see if the cat sighted was Romie. We did not find Romie, but we did trap several cats. Usually it would be a catch and release.....except for this orange fellow. This time, it was quite evident this was not an owned cat. It was a cold, snowy evening. His ears had signs of old frost bite, he had a large mat on his back and he was not neutered. The PAW person agonized over whether or not to release him from the trap. Knowing there was no where for him to go (except her house) and acknowledging the fact he was likely a feral (unsocialized) cat, she decided to help him. He was taken to the vet clinic the following morning.

Reuben was not feral. The clinic staff were easily able to handle him although it had likely been a long time time since he had been touched by a human. Reuben tested positive for Feline Immunodeficiency Virus. It is not uncommon for unaltered males to have this virus as it is passed between cats by deep bite wounds (usually unaltered males fighting for territory). The PAW Society tests high risk cats for FIV and Feline Leukemia. Cats with FIV can live a normal lifespan. They can safely live with other cats if they are not aggressive. They need an observant guardian, a good diet and of course, to be kept indoors so as to not be exposed to other viruses. FIV kitties have compromised immune systems and so can be more susceptible to things that most cats are immune to.
Personality:
When Reuben was neutered, he also had several teeth removed and since he was already missing many teeth, he simply is not capable of delivering a deep bite (to repeat, a deep bite wound is how FIV is spread). Even so, because his foster home has other cats, his integration into the household was done carefully in order to monitor his behaviour around other cats. Turns out, he integrated with relative ease and although he likes to wrestle with a couple of the cats in his foster home, it is a playful activity, not an aggressive one. Reuben has come along beautifully in his relationships with his human foster family. He loves to partially drape himself across a lap or press up closely beside someone to best position himself for a tummy rub. He is quite an active fellow, scooting up and down the stairs, using the hallway for a runway and charging up the cat furniture. Like many cats who have lived a harsh outdoor life, Reuben is more than satisfied to now be on the inside. He has excellent litter box habits and mealtime is always an exciting event. Although he eats mostly canned food, he still eats crunchies despite having (now) no teeth (Rueben had a dental in May/17 to remove the remainder of his teeth). He will be staying permanently with his foster family.
Waking up from sleepy-time: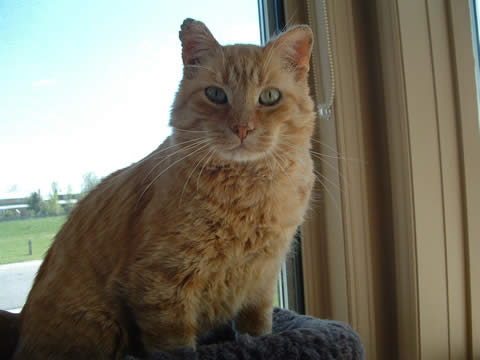 Peek-a-boo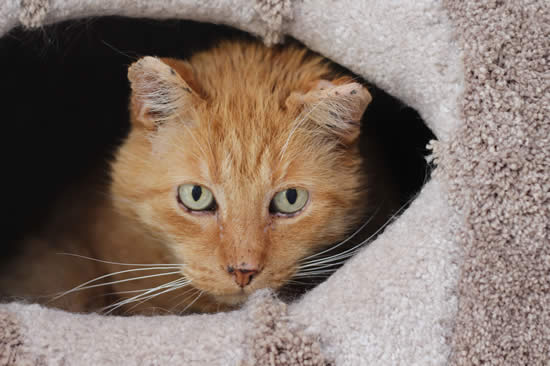 Reuben loves tummy-rubs: