Thumbelina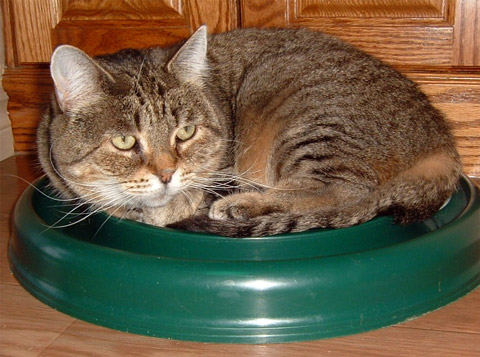 I certainly didn't expect to be writing of Thumbelina's passing in early December, 2017. She lived with my human and cat-family since the Compassion Centre closed in 2008. Her GI flare-ups became more frequent this fall and then, the last one, did not resolve. She passed away at home, her home. Her little light shone so brightly - not that she was an out-there kind of girl, but she certainly had her very own sweet, and delightful ways of expressing herself. She had become completely socialized over the years and continued making progress right up until her passing. Her little paws that looked more like little plates no longer pad lightly about the house. She was so loved and adored but it doesn't feel like it was long enough; it never does. ~Audrey
Thumbelina
Color: DSH Brown/Gold Tabby (polydactyl)
Age: Born approx. 2001
Gender: Spayed Female
History:
Thumbelina was the mother of a family of four adult cats and a litter of
juvenile kittens that PAW rescued in the fall of 2005. None of them had ever had a home so were very shy with people. They had been living in a run-down garage and backyard of a rental property. They had survived by getting the odd handout from a renter and from food they foraged in a large open field next door to them. There was no resident caregiver who could have provided for them long term as the property was slated for demolition within the year. We felt we had no option but to bring them to the Cat Compassion Centre (since closed) and there they began the process of learning to trust their human friends. The volunteers loved this incredible family. We learned so much about how a cat family communicates and socializes with each other. They all got along great with the many cats that came to live temporarily at the center, probably because they have always lived as a multiple family. Thumbelina is a beautiful and compact girl, all the more cute with her many-toed paws. Her face is wide but her body isn't.
Personality:
When the Compassion Centre closed in the summer of 2008, Thumbelina went to live in a foster home - a new experience to be in an actual home. It took time to get used to her new surroundings. She remains very respectful of other cats and if a new one arrives, she stays safely under the radar for awhile. She had most of her teeth removed in August, 2008, and although she still eats crunchies, her foster mom makes sure her canned food portions are generous. When she scoots and slides around the house in one of her playful moods, it is very entertaining to watch those big feet! Thumbelina will always be a shy girl but nevertheless has come a long way and now enjoys being touched and loved. She is very gentle with both people and cats.
March, 2017: With age, comes the need for more attention to health. Through trial and error, Thumbelina's foster family discovered he has a sensitivity to fish although its removal did not completely resolved her GI issues. She has regular blood tests and her health continues to be monitored. It is probably best if Thumbelina lives out her life with her foster family. She's happy and content.
Playin':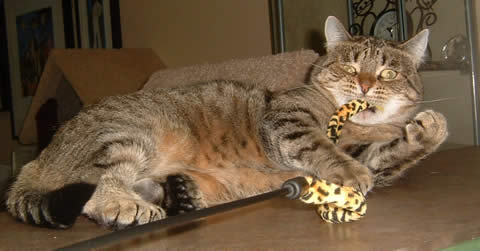 One of Thumba's magnificent back paws: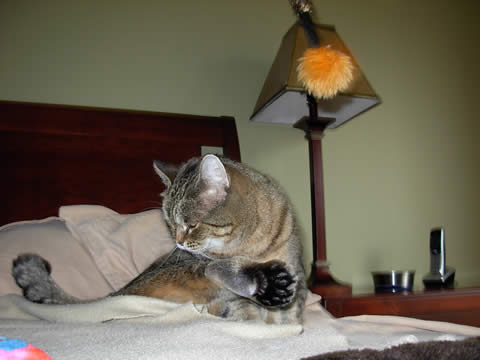 Aaaah, just a little to the left now: