Sasha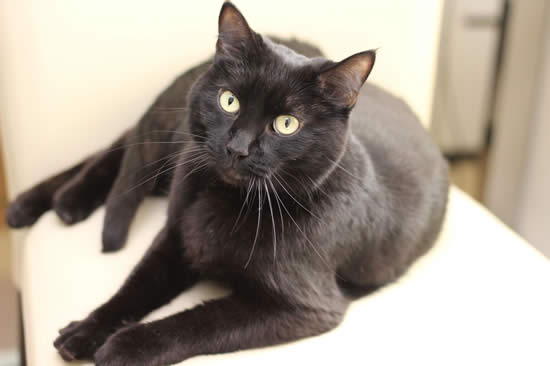 ADOPTION PENDING!
Sasha
Color: DSH Black (de-clawed)
Age: Estimated June, 2012
Gender: Spayed Female
History:
Sasha was found as a stray and remained unclaimed. This lovely house-panther is de-clawed and therefore would have a difficult time fending for herself outdoors. Another local rescue group agreed to take her in and shortly thereafter, Sasha was placed in a PAW Society foster home.
Personality:
It's been a few months since Sasha welcomed two new (to her) PAW foster cats, Nic and Izzy, into her foster home. Though the newcomers are younger and a bit more mischief-prone, Sasha is adapting well. Her foster guardian continues to monitor their developing relationship because de-clawed cats sometimes take awhile to adjust when their world changes. Sasha will huff and puff if she feels cornered, but it's only noise, never aggression; however, we do feel she'd be happiest as an only child as that's when she truly seems to be herself. She likes to be on her human's lap, and to sometimes just sit there without being touched. She very much enjoys playing with a string toy and will happily play hunt and chase with it. She also has bursts of play energy, charging around the room, leaping on and off the furniture. Foster mom says, "she knows breakfast and supper time and sometimes uses her soft little voice as she wanders about, looking up at us as if to say - you know what I want." She enjoys a window perch or a cat tree where she can see what's going on in the outside world. Sasha keeps herself very clean, has good litter box habits and a good appetite, eating both canned and dry food. You'll know she's claimed you as 'hers' when she gently caresses your feet. There are no claws involved, because she has none, but her sweet little paws softly stroking your feet will be "incredibly endearing." Sasha will want to sleep with you...or on you, and sometimes crawl under the covers.
If you'd like to inquire about Sasha, click here.