Rueben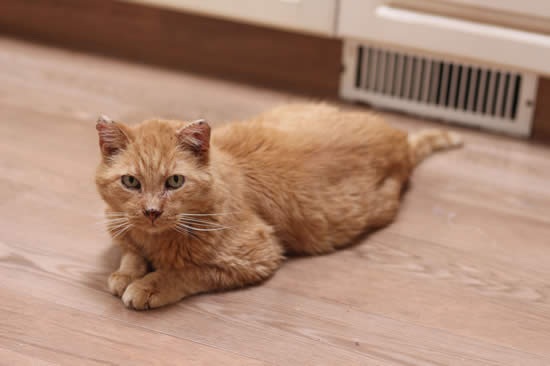 Rueben waiting for his supper
December 27, 2019, a day that we didn't want to ever come, finally did. Our sweet Rueben left us, bright-eyed and brave right to the end. A friend sent this beautiful message:
"It is heart-breaking that Rueben had to go, but it would have been infinitely more heart-breaking if he had died alone and suffering a decade ago. Now, he will never be nameless, never be unknown; always loved and always remembered. If a human could have such an epitaph, he would be lucky indeed."
To our beloved Rueben, now you can run freely again. I hope you know how much you were and always will be loved. ~Your devoted mommies for eleven years, Katrina, Audrey and Roxanne.
UPDATE: November 29, 2019 - Rueben is still with us, quieter though, preferring to spend most of his time in foster mom's warm and cozy office snuggled up with one of his cat-friends, Bonnie. Of course, his toe isn't getting any better, but his appetite is still amazingly good.
UPDATE: AUGUST 8, 2019 - Rueben did not have his scheduled surgery. The reason was not good. He had been on IV fluids since the previous day but during preparations the morning of surgery, it was noticed he had pale gums and a low body temperature. His veterinarian called with the recommendation that we repeat the blood panel and x-rays. Both had been done when he had his biopsy in July. The new blood panel showed a low red blood cell count - autoimmune hemolytic anemia - a serious blood disorder. The new x-ray showed tumours, one in his chest and one in his abdomen. His blood work had been normal (for a fellow his age) and x-rays were clear just three weeks prior. Needless to say, this sudden down-turn in his health status was devastating news for his foster mom, the PAW family and his veterinarian. Rueben was discharged later that same day and returned to his foster home where he will live out his life. We don't know if this stage will be a few weeks or a few days. He is still eating and, although quieter, he is his usual good-natured self. When he begins to show signs of a deeper decline, he will be assisted to leave his earthly body. In the meantime, he will be loved and babied, just as he always has been. The PAW Family is deeply grateful for your kind and generous support of Rueben. If everyone is in agreement, the donated funds will now, sadly, be used to cover the aforementioned medical tests and his end of life care. He has comfort medication and is receiving daily sub-q fluids.
UPDATE: July 22, 2019 - Rueben has a squamous tumour in his toe on a back foot. It came to the notice of his foster mom when she noticed a large scab covering the toe. When the scab was removed, she saw that the claw was missing. Thinking it was an injury due to it getting caught on something, she monitored it for a few days but then decided it needed a veterinarian's opinion. A couple of rounds of antibiotics did not improve the toe and a biopsy was then undertaken. The results came back as a squamous tumour in the toe. The only way to prevent the cancer from spreading is to remove the toe. His surgery quote is $1,039.37 and will include fluids to protect his kidneys and an overnight stay. To help with the cost of surgery, PAW is launching a fundraising campaign through GivingGrid (cut and paste address):
https://www.givinggrid.com/hpyudn/
Rueben is such a happy boy. He deserves the chance to continue to live a good life! He is a much loved member of the PAW family of sanctuary cats.
THANK YOU! OUR GOAL WAS REACHED!
Rueben (foster cat)
Color: DSH Orange Tabby
Age: Born approx. 2004
Gender: Neutered Male
History:
In the late fall of 2008, the PAW Society was still desperately searching for a lost foster cat, Romie. As part of the search, we delivered flyers to many households on the west side of Lethbridge. From time to time we would receive a call from someone who thought they may have seen Romie in their neighbourhood. We would then rush to that location, set up a trap and wait to see if the cat sighted was Romie. We did not find Romie, but we did trap several cats. Usually it would be a catch and release.....except for this orange fellow. This time, it was quite evident this was not an owned cat. It was a cold, snowy evening. His ears had signs of old frost bite, he had a large mat on his back and he was not neutered. The PAW person agonized over whether or not to release him from the trap. Knowing there was no where for him to go (except her house) and acknowledging the fact he was likely a feral (unsocialized) cat, she decided to help him. He was taken to the vet clinic the following morning.

Rueben was not feral. The clinic staff were easily able to handle him although it had likely been a long time time since he had been touched by a human. Reuben tested positive for Feline Immunodeficiency Virus. It is not uncommon for unaltered males to have this virus as it is passed between cats by deep bite wounds (usually unaltered males fighting for territory). The PAW Society tests high risk cats for FIV and Feline Leukemia. Cats with FIV can live a normal lifespan. They can safely live with other cats if they are not aggressive. They need an observant guardian, a good diet and of course, to be kept indoors so as to not be exposed to other viruses. FIV kitties have compromised immune systems and so can be more susceptible to things that most cats are immune to.
Personality:
When Rueben was neutered, he also had several teeth removed and since he was already missing many teeth, he simply is not capable of delivering a deep bite (to repeat, a deep bite wound is how FIV is spread). Even so, because his foster home has other cats, his integration into the household was done carefully in order to monitor his behaviour around other cats. Turns out, he integrated with relative ease and although he likes to wrestle with a couple of the cats in his foster home, it is a playful activity, not an aggressive one. Reuben has come along beautifully in his relationships with his human foster family. He loves to partially drape himself across a lap or press up closely beside someone to best position himself for a tummy rub. He is quite an active fellow, scooting up and down the stairs, using the hallway for a runway and charging up the cat furniture. Like many cats who have lived a harsh outdoor life, Rueben is more than satisfied to now be on the inside. He has excellent litter box habits and mealtime is always an exciting event. Although he eats mostly canned food, he still eats crunchies despite having (now) no teeth (Rueben had a dental in May/17 to remove the remainder of his teeth).
Waking up from sleepy-time: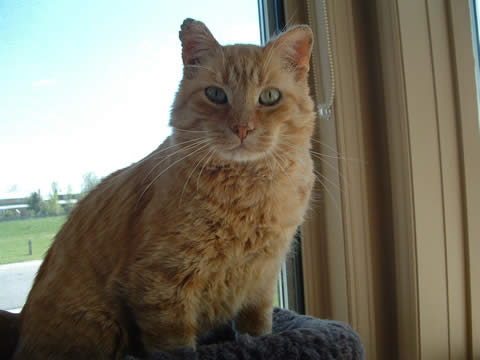 Peek-a-boo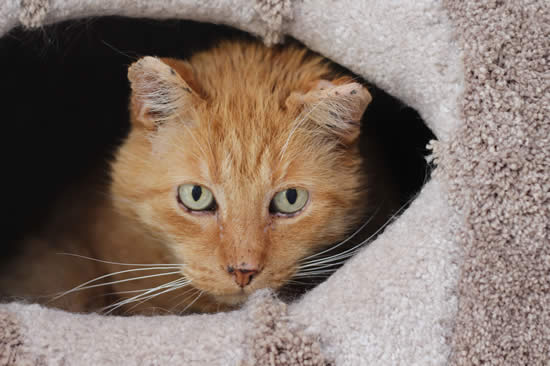 Rueben loves tummy-rubs: